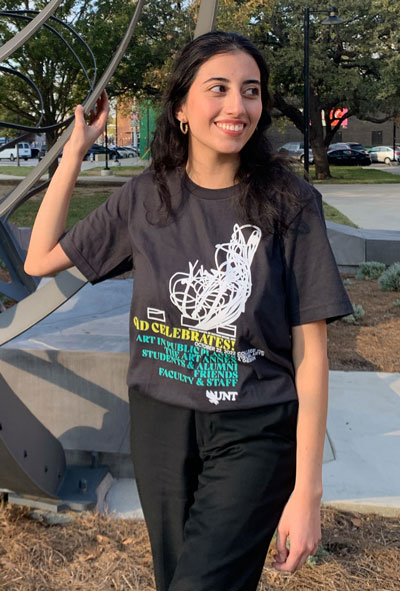 The College of Visual Arts and Design will host and celebrate the college's faculty, staff, students, alumni, friends and family as we gather to dedicate the Art in Public Places sculpture by artist Matthew Ritchie, the opening of the new Art Annex building and the donors and recipients of the CVAD Scholarship and Fellowship Program. We also will feature the fall exhibition "Banquet for Seaweed: Snapshots from the Arab 1980s" with curator Nada Shabout, UNT Regents Professor of Art History, in the CVAD Gallery.
Prospective students are welcome and encouraged to attend!
We hope you will join us. Come, let us raise a cup together and toast to you, the UNT and CVAD community, in celebration of visual arts, design, art education, art history, scholarship and more!
Friends and family are welcome!
Ritchie is a New York-based artist known for his paintings and installations that draw from science, sociology, anthropology, mythology and the history of art. His 20-foot-tall, 7,000-pound sculpture, "Shadow Garden," is located on the west side lawn of the UNT Art Building. The 25,242-square-foot Art Annex building is the new home of the Studio Arts ceramics program and 40 graduate-student studios, dedicated spaces to inspire creativity and exploration.
The open house also extends to the Art Building with an exhibition of student work on all floors. Graduate students will host an Open Studios event of their studios in the Art Annex. We look forward to seeing you!
Address: UNT Art Building,1201 W. Mulberry St., Denton, TX 76201
For those

with

a valid UNT F/S or A parking permit, parking will be available in Lot 50. Previously, Lot 50 was booked by another UNT entity, but it has since been moved off campus.
For those

without

a valid UNT parking permit, please park in Lot 54 — across the street from the Art Building. Please show the parking attendant your paper or digital invitation — or this web page — for CVAD Celebrates.
Special Note: Also, taking place on Oct. 22 in the Art Building is the Education as Experimentation 3 Symposium hosted by the Onstead Institute, the Department of Art Education and CVAD. Read more about it!
Celebration Activities
3 p.m.: Faculty and Staff Meeting
4 p.m.: Art in Public Places Program: A Special Presentation and the dedication of the "Shadow Garden" sculpture by New York City-based artist Matthew Ritchie!
CVAD Scholarships and Fellowships — Acknowledgment of Donors and Recipients
4:30–6:30 p.m.: Open House
Art Annex Open House — the new home of the Studio Arts Ceramics program and graduate-student studios
Art Building Open House — an exhibition of student work on all four floors
CVAD Gallery fall exhibition — "Banquet for Seaweed: Snapshots from the Arab 1980s"
Pizza party for students
T-shirt giveaway and more!
4:40 p.m.: Vocal Performance by Dr. Daniel Bubeck at the "Shadow Garden" sculpture on the west side lawn of the UNT Art Building
Countertenor Dr. Bubeck has earned an international reputation on the opera and concert stages with a singing repertoire ranging from baroque to contemporary music. He's a world-renowned vocalist, hailed by the New York Times and Opera News and has performed throughout the world!
What to see during the Open House
First Floor
Sculpture
Second Floor
Fashion Design, Rooms 240, 250
Interior Design, Rooms 255, 265, 269
Printmaking, Room 275
User Experience Design, Room 270
Third Floor
Printmaking, Room 340
New Media Art, Rooms 345, 355
Photography, Room 360
Graphic Design, Room 365–368
Foundations, Room 375
Fourth Floor Hallway
Drawing and Painting
Art Annex
Ceramics
Graduate Students' Open Studios
UNT Art Annex

Image #1 Description: green-and-white banner across the top of the page with the following blue, white and green text: "CVAD Celebrates! College of Visual Arts and Design, You're Invited, Oct. 22, 4–6:30 p.m., Create the Future." Image #2: Olivia Palomo modeling the CVAD Celebrates commemorative T-shirt, which is black with the "Shadow Garden" sculpture in outline. Image #3: This is the north door of the Art Annex, a brown brick building with green-tile surround of the door. The Art Annex is in the foreground with a long view to the west across Parking Lot #55 to the UNT Art Building.
Video: Art in Public Places Dedication
Event Photos