Press Room • CVAD External Mentions & Events

How to submit your Event/Exhibition
If you don't see your current event on this page, please use the Share News portal to send in your information. From noteworthy exhibitions, performances and programming to faculty, staff and guest exhibitions, CVAD is always in the news!
External Media Roundup & Announcements
Sept. 15, 2022: "No one tells a true-crime story quite like Laura Evans." The September/October 2022 issue of FYI50plus online magazine features associate professor and art crime expert Evans for her recent presentation to a UNT Osher Lifelong Learning Institute audience. Evan's lecture titled "Murder, Mayhem and the Mafia: Caravaggio and the Theft of His Nativity with St. Francis and St. Lawrence" is the first presentation of the newly named Debbie and Neal Smatresk OLLI After-Five Series, which took place at the Robson Ranch Clubhouse in Denton, Texas. President and Mrs. Smatresk, many UNT President's Cabinet members and college deans also attended. Evans is the CVAD Art Museum Education Certificate program coordinator and works with graduate students pursuing a career in art museums. Written by Jordan Williams, OLLI communications strategist, the magazine article is available online, "Treasures and Thieves, Tracing Art Crimes through the great museums of Europe."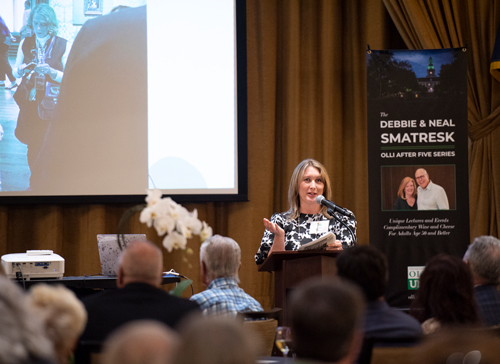 CVAD Community: External Events
Alumna in the News: The International Center for Medieval Art names UNT CVAD alumna Tania Kolarik, 2015, M.A., Art History, as the new assistant editor for the ICMA Newsletter. Kolarik, a Ph.D. candidate at the University of Wisconsin–Madison, will be in charge of the events and exhibitions section and general editing of the newsletter. Kolarik also will be chair of the 2023 Society of Architectural Historians Annual International Conference in Montreal, Canada, April 12-16, 2023.

Faculty Highlight: Professor of Art History Jennifer Way delivers a conference keynote lecture "Questions of interraciality in Lewis Wickes Hine's photograph of WW1 craft therapy for the American Red Cross" on Sept. 13, 2022, at the University of Huddersfield, in Huddersfield, England. The title of the international conference is "Crafting Identities: Handicraft Programmes in Times of War, Genocide and their Aftermaths, c.1890-1950." The conference brings together historians and art historians to explore the aesthetics and function of craft in reconstruction and rehabilitation programs aimed at restoring or re-making the self, the community or the nation. Also explored are what material objects can reveal about creative expression, emotional survival and new craft identities and practices in these contexts.
CVAD Community: External Exhibitions
Aug. 6, 2022: Associate Professor Alicia Eggert's neon installation "This Present Moment" is the inspiration for the title of the Renwick Gallery's latest exhibition of contemporary craft. At the Renwick Gallery, craft that captures our polarized times is on exhibition and featured in a "Washington Post" article by Kriston Capps.
May 13—Aug. 7, 2022: "Sanctuary" is a solo exhibition of works by Studio Art Assistant Professor Eliza Au May 13–Aug. 7 at the Mesa Contemporary Arts Museum in Mesa, Ariz. A site-specific installation, the exhibit is constructed from three large stoneware lattice screens. The exhibition investigates the role patterns play in sacred spaces and how such spaces facilitate and fulfill the human quest for meaning and understanding of the unknown. By bringing historical patterns into a contemporary context, Au strives to create a meditative space without a direct connection to religious ideology.