The Paul Voertman Gallery is busy especially this time of year as students show us their best exhibits and capstone projects.
Welcome, Friends, to your CVAD Update!

Message from Dean Hutzel
April 18, 2022
Hello, Friends,
I am pleased to share this semester's newsletter to inform you of some wonderful things happening in CVAD!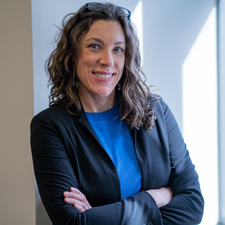 April is always exciting as the college is abuzz with capstone projects, exhibitions and spring commencement. We look forward to more than 400 students crossing the stage to graduate in early May. Much of their success in completing their degrees can be attributed to the scholarships and financial support they receive from CVAD's endowments. Last year, we awarded $230,525 in scholarship dollars to CVAD students, all thanks to the generosity of donors and friends like you. The CVAD Advancement Board raised $16,000 in sponsorships to support students. We also launched a new endowed scholarship at $30K and raised over $13k to memorialize alum Jaclyn Williamson. We are so appreciative of all the support CVAD friends and alums provide to the college to assist students in college and their career aspirations. Thank you!
Our leading exhibition in the CVAD Gallery, "It Gets Better Or It Doesn't," features the solo show of artist Emmy Bright. It's open through July 8, 2023, so there's plenty of time to swing by and see Bright's prints, quilts and videos, and I invite you to stop in the Dean's Suite to say hello.
Special thanks go out to six alumni who stepped forward to speak at "Creative Careers," a collaborative event presented by CVAD and the UNT Career Center to help students explore career choices and trajectories with the benefit of alums who have experience. Read more about Walter "Wall-E" Barraza, Elizabeth "Liz" Enoch, Jessica Fuentes, Paige Points, Austin Uzor, and Giovanni Valderas. If you want to share your wisdom with current students, please contact our CVAD Career Coaches, Marcy Bishop-Lilley and Jill Gower.
I want to congratulate Denise Amy Baxter, associate dean of the Toulouse Graduate School and professor of Art History, recently elected to the College Art Association Board of Directors. Binod Shrestha, director of the CVAD Foundations program, was recently elected as a National Arts Administrators Association Board of Directors and recipient of the 2023 FATE Master Educator Award.
Also, in this issue, we remember Don Schol, former professor and associate dean for administrative affairs, who worked at UNT for 41 years. His impact on CVAD was significant and foundational to where we are now as a college.
Finally, please save the date! CVAD Celebrates — 30 years a college, 130 years offering art at UNT — will take place during UNT's Homecoming Weekend on Oct. 28, 2023. For other news and views of CVAD, visit our newsfeed and tag us in your social media posts with #UNTCVAD!
Wishing you a fun and fruitful summer!
Warmly,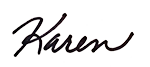 Karen Hutzel, Ph.D.
Dean and Professor
College of Visual Arts and Design
#UNTCVAD Facebook | Instagram | YouTube


Emmy Bright works with drawing, writing, print and performance to investigate connection problems and boundaries.


This year, the juror for Paul Voertman Juried Student Art Competition and Exhibition was artist Emmy Bright, who selected 43 pieces from 244 artworks entered by 81 artists who range from freshman to third-year M.F.A. students, some of whom are pictured with Dean Hutzel. Read more about the competition. Photos by Allie Moore.
Creative Futures Alumni Highlights
Catch up here with our alums participating in the CVAD + Career Center program called "Career Futures." We hope you visit us or let us know how you're doing in your creative career through the Alumni Update form.
Click the alum's name to view the full profile.
Co-Founder and Chief Creative Officer, WALO, Dallas
B.F.A., 2006, Communication Design
WALO Creative Inc. is a Dallas-based independent idea and design shop. Throughout his career, Barraza has helped build brands such as Fruit of the Loom, Samsung, Sonic Drive-Ins, Miller Lite, and most recently with WALO brands that include Jarritos, 7-Eleven, Reliant Energy and Karbach Brewing's Ranch Water.
---
Technical Design and Production Manager, Westmoor Manufacturing
M.F.A., 2015, Fashion Design
Liz Enoch grew up in Western New York adjacent to the Great Lakes. She completed her bachelor's degree in Clothing and Textiles, then moved to Dallas to pursue her career. Enoch has been in the apparel industry since 1983 and began as a patternmaker for a manufacturer and evolved into a technical designer as the industry changed to manufacturing overseas. Enoch says she has seen a lot of change in the industry since then.
---
News Editor, Glasstire and Director, Kinfolk House, Studio Artist
M.A., 2013, Art Education and Graduate Education Certificate
A longtime Fort Worth resident, Jessica Fuentes is an artist, educator, author, and arts administrator. She also holds a B.A. in art and performance from the University of Texas at Dallas (2004).
---
Supervisor, Discovery Center, City of Frisco, Texas
M.A., 2013, and B.A., 2010, Art History
Paige Points has supervised the Frisco Discovery Center as part of the Cultural Affairs Division with Play Frisco – Parks & Recreation for seven years. Before that, she worked for Frisco Arts as a marketing coordinator for four years and wore many other hats. She holds an M.A. in Art History from the UNT CVAD, is an alum of the Leadership Arts Institute Class of 2019–20 with North Texas Business Council for the Arts, and is a Certified Park and Recreation Professional.
---
Studio Artist, Educator
M.F.A., 2021, Studio Art - Drawing and Painting
Born in the eastern part of Nigeria, Uzor hails from the state of Imo. He received his B.F.A. in 2013 from the University of Nigeria Nsukka, where he majored in drawing and painting. Shortly after graduation, he kickstarted a studio practice, which led to local and international recognition that set the groundwork for his first-ever solo show in 2016 titled "Visitors" at the Rele Gallery Lagos, Nigeria. Uzor, a skilled draftsman and experienced painter, explores the world of the unknown using psychological spaces, feelings, and alternate realities in search of existential truths.
---
Assistant Professor of Art, Texas Woman's University, Denton, Texas and Studio Artist
M.F.A., 2012, and B.F.A., 2007, Studio Art: Drawing and Painting
Previously, Valderas managed programming and exhibitions at the Fort Worth Community Arts Center, Kirk Hopper Fine Art, and Mountain View College. Valderas has taught painting and drawing courses at the University of North Texas, Richland, and Mountain View College.
---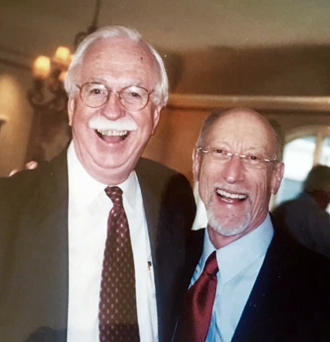 Don R. Schol
June 11, 1941–Feb. 2, 2023
UNT Faculty and Administrator: 1969–2010
Married to UNT alumna Pamela Burnley-Schol, M.F.A., 1989, Studio Art: Drawing & Painting
Portfolio: Don R. Schol
Many alums will remember Don Schol, former professor and associate dean for administrative affairs, who worked at UNT in the School of the Arts for 41 years.
Image: Pictured with then-Dean D. Jack Davis, Schol was hired to create a photography department and was a sculpture faculty member.
A self-described artist, soldier, academic and thin-ice skater, Shol devoted this work to his art, family and faith and dog named Kahlo. Born in Buffalo Center, Iowa, he graduated with a B.A. in philosophy in 1962 from the University of Dallas and an M.F.A. in sculpture and drawing in 1966 from the University of Texas at Austin, Texas.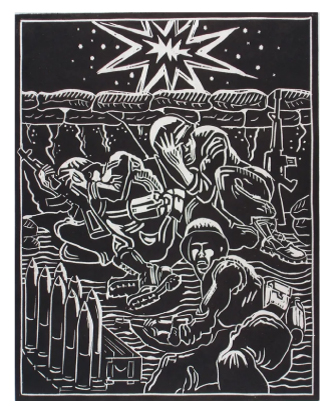 He volunteered to serve in the U.S. Army Infantry from 1967 to 1969 and separated as a captain after working as a combat artist in the Republic of Vietnam and the U.S. Army Center of Military History in the U.S. Army Combat Artist Program.
Taken from Schol's U.S. Army citation: More than once, in performing his duties as a combat artist, he courageously subjected himself to hostile fire to depict the role of the United States soldier more realistically in photographs, sketches, and color studies. Lieutenant Schol, on occasion, due to the tactical situation of the unit, was required to drop his role of combat artist and turn his attention to the action around him. He once performed as a helicopter door gunner in an aerial battle. His constant even temperament and resolute courage of convictions portray him as an officer who was not easily swayed under extreme pressure.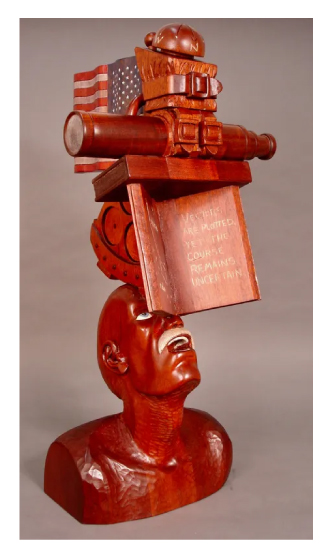 In 2011, Schol published a book of woodcut prints and narrative commentary about his Vietnam experience titled War Cuts. The forward was written by then-Senator John Kerry. A full set of the original woodcut prints on which the book was based is on permanent display at the National Vietnam Veterans Memorial at Angel Fire, N.M. The sculptures and drawings he produced for the U.S. Army in his capacity with U.S. Army Combat Artist Team V are archived at the Smithsonian Institution.
Immediately following his military service, Schol was hired as an assistant professor by the Art Department at then-North Texas State University in Denton, Texas. He is credited with founding the Photography program and teaching Studio Art courses. Forty-one years later, he retired as the associate dean of what had become the UNT School of Visual Arts and Design. His office was the one now occupied by Senior Associate Dean Eric Ligon. His primary studio pursuit was wood sculpture, always featuring his favorite Honduran mahogany as his preferred medium. He worked exclusively with hand-carving chisels, using many of the same techniques in the Middle Ages. He believed art could enhance the faith experience, and he often worked with church architects and parishes to help them achieve that goal. Schol leaves behind many liturgical sculptures commissioned by churches throughout the Dallas-Fort Worth region and even as far away as Nigeria. He also leaves behind an international legacy of students and colleagues.
His separate and equally prolific body of secular work often reflected on the philosophical conundrums of the 'Everyman' and allowed him to express his wry sense of humor.
In addition to alumna Pamela Burnley-Schol of Argyle, Texas, he is survived by his son, Mark E. Schol and his wife, Sue Schol of Columbus, Texas; two grandchildren, Laney M. Schol and Tommy Schol and his wife, Kristin Nicole Schol; and one great-grandchild.
Photos courtesy of Pamela Burnley-Schol.
Strategic National Arts Alumni Project, SNAAP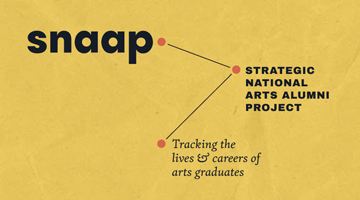 Thanks again to our alumni for participating in the 2022 SNAAP survey, in which 125 institutions participated in October and November 2022. We have not yet received the report with insights into the survey, but we expect them in the coming weeks.
The survey report should provide us with an institutional report of data gathered from graduates of arts and design schools and colleges to understand the professional success, educational satisfaction, and personal fulfillment of arts alumni, whether they have stayed in the arts or used what they have learned in other professional fields. The survey results represent the largest, most diverse group of institutions to participate. Several community colleges and HBCUs participated in the survey for the first time.
Celebrating CVAD Faculty and Staff Years of Service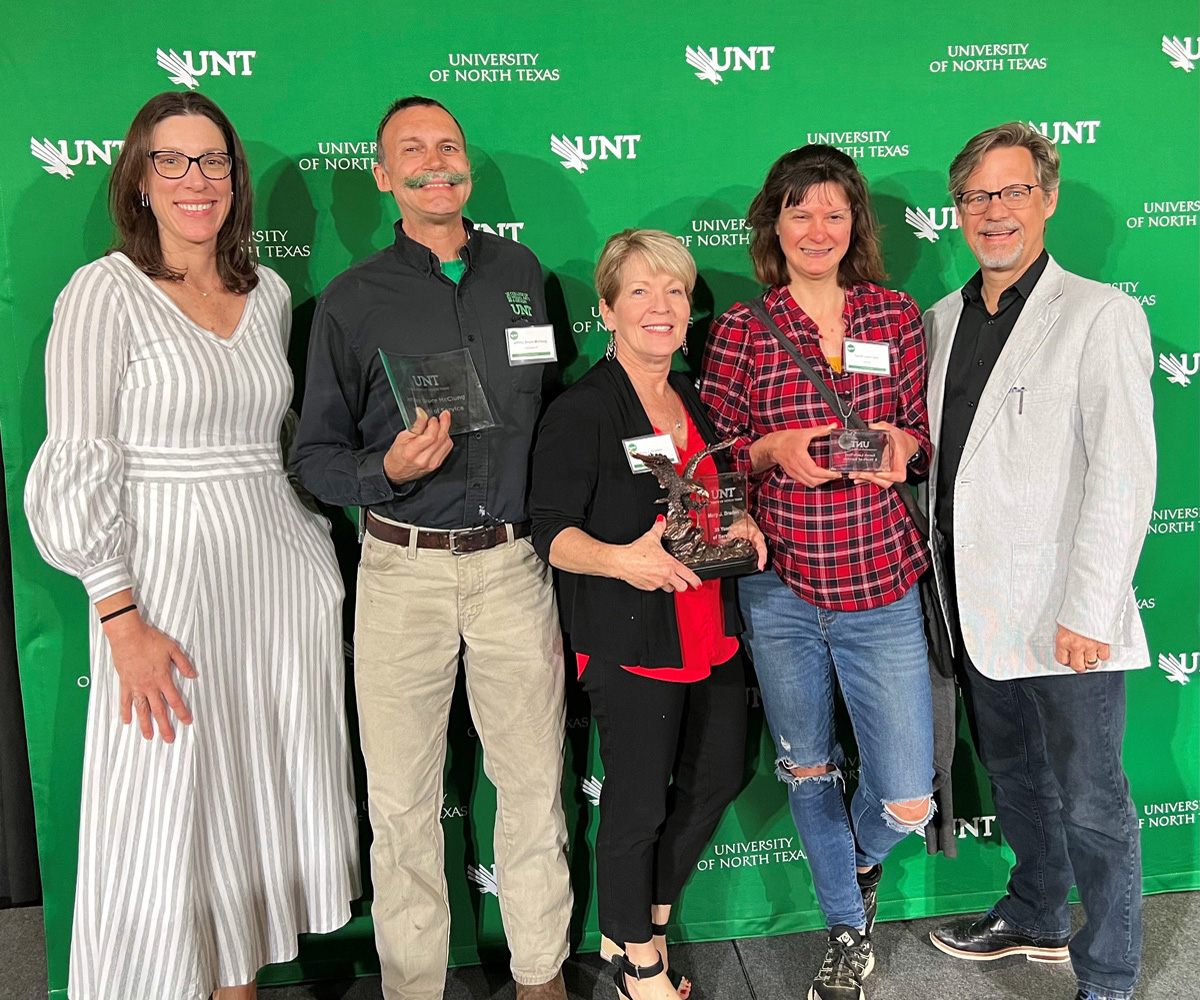 In March, the UNT Service Recognition Awards Ceremony for 2022 took place in the University Union. The 535 Service Award recipients honored this year represent a combined 6,560 years of dedicated service to UNT. The awards ceremony is part of Staff Appreciation Month, presented by DATCU. Honorees reached five to 55 years of service milestones in the 2022 calendar year.
In attendance representing CVAD were Karen Hutzel, dean, pictured left; Jeff McClung, CVAD facilities manager; Mary Braden, director, budget and operations; Sarah Loch-Test, visual arts technician in the Metalsmithing and Jewelry program; and Eric Ligon, senior associate dean for administrative affairs.
CVAD List of Service Awards
Mary Braden, 35 years
Lari Gibbons, 20 years
Nada Shabout, 20 years
Johnnie Stark, 20 years
Andrew DeCaen, 15 years
Jeff McClung, 15 years
Paho Mann, 15 years
Phillip Park, 15 years
Paula Lupkin, 10 years
Zak Loyd, 5 years
Doug May, 5 years
Sarah Loch-Test, 5 years
Brooks Oliver, 5 years
Alisa Otto, 5 years
Mónica Salazar, 5 years
Binod Shrestha, 5 years
Barbara Trippeer, 5 years
Hepi Wachter, 5 years
David Wolske, 5 years
Alumni in Touch
We are always happy to hear from alumni, and this spring, we would like to share a few alumni profiles. Click on the alum's name to visit their profile.
---
CVAD installs a Unique Window
Movies at the Art Building!
Seeking an optical glass to use when projecting films onto the Art Building Courtyard's outdoor wall, Eric Ligon, alum and senior associate dean, worked to find the best solution with Scott Harris, project manager and a UNT Facilities mechanical engineer.
"We spent a good while looking for an optical glass manufacturer — like the kind of glass in the back of a movie theater that the film projects through — but were ultimately told that no one made an optical glass rated for exterior use," Ligon said.
Harris and his contractor proposed a new window frame for the opening with a 1.5- by 4-foot sliding glass door.
"When we want to use the projector, we will slide the window open so we are not projecting through any glass," Ligon said. Additionally, they installed a small rain guard at the top of the sliding door so that the rain will not splash inside if it starts to rain while the camera is in use.
The laser projector is the brightest choice for large venue applications and has superior 10,000 ANSI lumen brightness and a 3,000,000:1 contrast ratio for brilliant viewing experiences.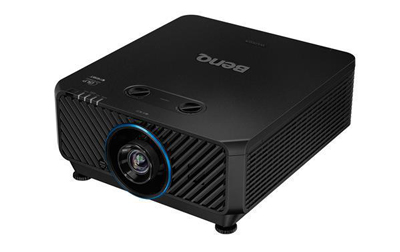 The BenQ BlueCore LU9915 laser engine delivers superior color performance through a dual-color wheel system, 360-degree and portrait installation support and 24/7 operation with dramatically improved durability for diverse application opportunities. It also is compatible with a selection of lenses for various installation possibilities.
The two projectors were donated by BenQ during the construction of the Art Building in 2017–2019. Each projector can be aligned so the images sit atop each other and align perfectly to brighten the projected image. Or they can be positioned so that one image sits above the other, allowing two simultaneous images to be projected simultaneously.
CVAD plans to use the projectors to display artists' work, especially by faculty and students in New Media Art. Still, other students are expected to use it to expand their thoughts about making art.
The projectors are slated for movie nights to help build a greater community among the students of CVAD and the university, Ligon said. "We tentatively plan to host a "Rocky Horror Picture Show" screening next Halloween night!"
Ultimately, we want to install a movie screen so we have a single continuous reflective field to project, but that is on the wish list for now, Ligon said.
Gif by Allie Moore, undergraduate, Studio Art: Photography


CVAD hopes to install a movie screen and use the eastside wall in the Art Building Courtyard to project student art and movies. Photo by Allie Moore.
Now through July 8, 2023: Exhibition — "It Gets Better Or It Doesn't," by Emmy Bright, CVAD Gallery, UNT Art Building, Room 160
April 26, 9–11 a.m.: Cookies with CVAD Career Coaches — open to alumni!
April 26, 5:30–7 p.m.: Art Crime Mystery Lecture by Art Education Professor Laura Evans, UNT OLLI, Robson Ranch
April 27, Noon: Provost's Faculty & Staff Brown Bag Lunch, Union, Room 249, RSVP
April 28, 4–5:30 p.m.: Jun Hu, speaker for the D. Jack Davis Lecture, University Union, Room 385
May 5, 5–7 p.m.: Fashion Design Senior Show and Industry Awards, Art Building, First Floor
May 6, 2–5 p.m.: Interior Design Senior Show, Paul Voertman Gallery
May 13–June 17: "In a Tight Fix" installation by Meredith Cawley, Box 13, Houston
May 12–14: Spring Commencement Ceremonies
May 29: Memorial Day — campus closed
June 5–16: Creative U Summer Camp
June 19: Juneteenth
June 30: Last day of the Fort Worth Botanic Garden's Art + Science Exhibition "Dornith Doherty: Illuminations: Past, Present, and Future of Fern Research"
July 4: Independence Day — campus closed
Aug. 15: Summer edition of Friends of CVAD
Aug. 21–Dec. 15: Fall Semester
Oct. 28, 10 a.m.–3 p.m.: CVAD Celebrates!
UNT Alumni Calendar | UNT Events Calendar | Gallery Exhibitions

Gif courtesy of alumna Megan Motown, Class of 2010
This e-newsletter is produced by CVAD Marketing, Office of the Dean.
Questions, comments or suggestions? Contact us.
Email: cvad.Marketing@unt.edu | 940-369-5249
Mailing address: 1155 Union Circle #305100, Denton, TX 76201
Physical address: 1201 W. Mulberry St., UNT Art Building, Room 101, Denton, TX 76203-5017