Countertenor Daniel Bubek's rendition of "Half Winged" by Shara Nova is accompanied by harpist Ruth Mertens at CVAD Celebrates! Photo by Austin Krumwiede
Welcome, Friends, to your CVAD Update!

Message from Dean Hutzel
Dec. 6, 2022
Hello, Friends,
I hope you are all well as we prepare for this festive time of year!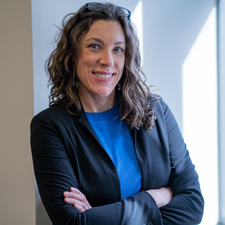 We have enjoyed a great fall semester culminating in commencement ceremonies next week for more than 200 Fall 2022 graduates, including 18 new masters of art and two Ph.D.s! Our leading exhibition in the CVAD Gallery, "A Banquet for Seaweed: Snapshots from the Arab 1980s," featuring more than 20 guest artists from Southwest Asia, North Africa and the Arab world, has been a great success and is not to be missed. It's open through Jan. 28, 2023, so there's still time to see the many works from the Barjeel Art Foundation and other private collections that make this exhibition spectacular.
Our CVAD Celebrates! event on Oct. 22 was such a success that we plan to make it an annual event. Special thanks to those who came to the party — we hope to see you next year. And to those who couldn't make it, we hope you will join us next year. Read more about the event in this issue, please take the survey — whether you attended or not — and enjoy the event photos!
Already looking ahead to February, we continue to enjoy the legacy of Paul Voertman with preparations for our 62nd annual Voertman Juried Student Art Competition; winners will be announced on the CVAD News and Views website. Renowned artist Emmy Bright is this year's juror. We would love to hear what you remember about the competition when you were a student; please tell us through the Alumni Update form!
Also, in this issue, we feature alumna Jaclyn Williamson, a young graphic designer, and offer ways you can add to her legacy. We also have a brief update about the Strategic National Arts Alumni Project and plan to share information with you as it becomes available. Coming up on March 4, our Office of CVAD Recruiting will host an open house event for prospective students complemented by a fantastic opportunity for high school juniors and seniors in Creative U, CVAD's summer day camp, June 5–16. If you have an eligible student in your family, please express your interest through the Creative U information page link.
I invite you to reflect upon what is meaningful to you; these are the gifts and talents that drive our CVAD artists, designers and scholars to create a better future — wishing you a happy, healthy, peaceful new year!
Warmly,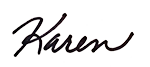 Karen Hutzel, Ph.D.
Dean and Professor
College of Visual Arts and Design
#UNTCVAD Facebook | Instagram | YouTube
The first annual "CVAD Celebrates!" event was fun and fabulous. With the support of our generous sponsors and the CVAD Advancement Board Members, we gave away T-shirts, had a pizza party for students, provided light refreshments and rented chairs for more than 200 attendees. Dean Karen Hutzel began the celebration by acknowledging our scholarship donors and recipients and was delighted to see so many in our midst. President Neal Smatresk was present to help us dedicate the "Shadow Garden" sculpture by artist Matthew Ritchie, who also came for the festivities. Vocalist Daniel Bubeck and harpist Ruth Mertens from the College of Music provided a moving musical performance composed by alumna Shara Nova as we admired the 20-foot-tall 7,000-pound sculpture that is part of the university's Art in Public Places program. The dedication of the new Art Annex, home of the Studio Art Ceramics program and 40 new studio spaces for the college's graduate students, included a look at the new kilns, open studios and art installations. All four floors of the Art Building were bustling with friends and family of our students whose art and designs were installed throughout. We also were delighted to see so many alums throughout the day who stopped by to see the student art, how the Art Building has improved and grown and to say hi to their former professors. Don't miss the photo gallery of this year's event.
We hope you will visit us or tell us how you're doing in your creative career through the Alumni Update form.
Please take this two-minute survey: Let us know how your visit went or how we can prepare for next year's CVAD Celebrates! event by taking this two-minute survey! We hope you'll join us next October for CVAD Celebrates as we plan to appreciate 30 years since CVAD became a separate art and design college!

Thanks again to our CVAD Celebrates! Sponsors and Advancement Board Members
Anonymous
Anonymous
Cohn Drennan, Mesquite Arts Council
Independent Financial
Amy Kelly, Old Jail Art Center
Susan Gabbard
Anita and Kevin Moran
Lena Morris, EIKON Consulting Group
Richard Riccardi
Debbie and Charlie Stafford
Monica and Phil Samson
Katherine Wagner
David Wilgus
Jim T. Wilson
Alum in the Spotlight, In Memoriam
Jaclyn Williamson Design Scholarship
Alumna Jaclyn Williamson, 2011, B.F.A., Communication Design: Graphic Design, is on our minds with gratitude for her life and legacy. We are grateful she chose the College of Visual Arts and Design to prepare for an all-too-short professional career. We also thank her parents, Sarah and Kenneth Williamson, for endowing the Jaclyn Williamson Design Scholarship in their daughter's memory.
Jaclyn's legacy allows her to continue taking new designers under her wing as they grow and strengthen their skills.
To donate to the endowment fund in Jaclyn's memory, please get in touch with Felicia Lewis, senior director for CVAD development. For more information, please visit the UNiTed and Supporting those in Need web page.
Strategic National Arts Alumni Project, SNAAP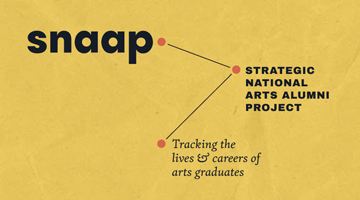 We hope all CVAD alums received a message from the Strategic National Arts Alumni Project, SNAAP, asking them to complete a nationwide survey about their experience in school. We thank those who provided data that will be used to help inform our future programming and curricular planning.
Since its inception in 2008, SNAAP has gathered information from more than 200,000 arts and design alumni of more than 300 colleges and universities. This comparative approach to data collection has helped individual colleges and universities like UNT identify how their arts and design programs measure up against their peers. For example, SNAAP data has been used to provide artists with more entrepreneurial training, effectively changing the national conversation on the value of an arts degree.
Thanks again for participating in the SNAAP survey to help CVAD continue to be the best possible advocate for the arts on our campus and beyond. Next spring, CVAD will receive a report from SNAAP about information specific to CVAD alums; check the summer edition of Friends of CVAD for more information.
Dr. Georgia "Billie" Gough's 102nd birthday!
You're invited to help us celebrate a long-time CVAD professor, founder of the Ceramics program, a lifetime artist and a dear friend, Billie Gough, on the occasion of her 102nd birthday coming up on Dec. 21. The Ray and Georgia Gough Design Research Space on the second floor of the Art Building is a lasting legacy and testament to the Gough's generosity.
If you would like to send a card or message, please mail yours to the following address or drop it off in the Office of the Dean, Art Building, Room 101.
UNT College of Visual Arts and Design
Attn: Professor Emeritus Billie Gough
1155 Union Circle, #305100
Denton, TX 76203
The College of Visual Arts and Design plans to host rising high school juniors and seniors for a day camp in the summer of 2023, and we're calling it "Creative U."
A collaboration between the CVAD Foundations program and the Onstead Institute has resulted in plans for this two-week day camp, June 5–16, 2023, Monday through Friday from 8 a.m. to 4 p.m. in the UNT Art Building.
Students will learn how art and design practices can be used to investigate and communicate ideas, tell stories, identify problems and determine solutions! If you would like to sponsor a high school junior or senior in Creative U, please contact Felicia Lewis, CVAD's senior development officer.
For more information, read the CVAD Summer Camp information page and please share with high school juniors and seniors in your network.
Simon Walker
A special shoutout goes to alumnus Simon Walker, 1999, B.F.A., Comm Design: Graphic Design, creator of the font, Newsagent, that we used in the words "Season's Greetings" in the Friends of CVAD Update banner image. Published in September, Newsagent is a bold, condensed serif font in a robust and formal style with some soft, modern flourishes and a set of super-decorative swash caps.
Walker is a freelance designer and custom letterer working in Chicago. Some of his clients, past and present, include Nickelodeon, American Eagle, Ed Helms, Pepsi, ESPN, Brené Brown, Nike, Vrbo and Target. See more of Walker's work online at SimonLetters.com and Beasts of England and on Instagram at Simon_Letters and Beasts of England.
---

Felicia Lewis, left, senior director for fundraising and development, pauses for a photo with alumnus Victor Rodríguez, Dean Karen Hutzel, and Roger Rodríguez, Victor's guest and former student.
Victor Rodríguez
Alumnus Victor Rodríguez, B.F.A., 1955, Art Education, M.A., 1962, Education, was honored on Nov. 2 with a UNT Distinguished Alumni Award. Born in 1932, he served as a teacher, coach and administrator and was inducted into the National Hispanic Sports Hall of Fame. As a superintendent of schools for the San Antonio ISD, San Antonio, Texas, he received the Superintendent of the Year Award from the American Association of School Administrators and is also a U.S. Army veteran. At the age of 90, he still enjoys drawing and painting and is a daily jogger!
---
Judith Garrett Segura, 1977, M.F.A., Studio Art
With a keen eye and good memory, Eric Ligon, associate dean for administrative affairs and CVAD alum, recognized alumna Judith Garrett Segura at the CVAD Celebrates! event on Oct. 22. After her visit, Ligon received a note, part of which we are happy to share.
"Dear Prof. Ligon,
"Thank you for identifying yourself to me at the recent CVAD event. My heart was warmed by your recognition that it was my work in the first building of UNT Dallas.
"I was commissioned for the work many years ago, and I was thrilled to have the opportunity. I showed the committee three proposals, and the Chancellor asked me to take on all three! They include the map on the floor, photo banners in the lobby, and less obvious, inspiring quotes from many different eras and cultures, chiseled in the sidewalks from the first parking lot to the entrance of the first building."
Segura also added that "CVAD seems to be a lively, thriving place these days. I thoroughly enjoyed the studio tours." A resident of Argyle, Texas, Segura is not only a fine artist, she is a writer about history — using her M.A. in English, also from UNT. She is a published poet and a visual artist with a portfolio of public art and works in private collections. Additionally, she is an editor of works by academic and business professionals. She grew up on the Texas coast, where her love of shore birds fuels her art. She has spent her professional career in Dallas as a company historian, archivist, art collection manager, and philanthropic advisor to a series of high-profile companies and individuals.
---
Keela Dooley Marshall
Congratulations to Keela Dooley Marshall, 2019, M.F.A., Studio Art: Metalsmithing and Jewelry, who recently was named the executive director of the Floyd Center for the Arts, Floyd, Va. A native of the New River Valley in the southwest part of Virginia, Keela's strategic goals include bringing new possibilities to the center, such as traditional and technology-related processes in an all-inclusive art-centered environment. Follow the Floyd Center for the Arts on Instagram @FloydCenterForTheArts.
---
Kristen Barnhart Peers
Congratulations to Dallas-based alum Kristen Barnhart Peers, 2018, B.F.A., Communication Design: Graphic Design, on her illustrations published in a Little People, Big Dreams™ book titled "Iris Apfel." You'll find the book on bookshelves around the world!
Her deceptively simple illustrations express complex emotions in a goofy and often sardonic manner. She likes to make many different things: clay figures, T-shirt designs, socks and bags, enamel pins, picture books, greeting cards and more. She enjoys thinking, petting her cat's belly, and merging the magic of illustration and design.
Kristen currently works full-time as an art director for Frito-Lay's in-house advertising agency voted the Best In-House Agency for 2022 by Ad Age. Her clients include Michaels, Adobe, Purple Mattresses, Yes Way Rosé, Blue Q, Ban.do, The Quarto Group - Little People Big Dreams, Sweet Reason, Rudy's Barbershop, Semihandmade, and more.
See Kristen's work: Instagram @kb.illustration, where she has 96,000 followers: Iris Apfel video reel; see her portfolio at KristenPeers.com. Images courtesy of Kristen Peers.
---

Eric Ligon
When the web team in CVAD Marketing created a color bar in 2020 to visually set the five CVAD websites apart — in a small way — from the other all-green academic websites at UNT, Associate Dean Eric Ligon, 1997, M.F.A., Communication Design: Graphic Design, kicked it up a notch to save us from the "interesting" color palette chosen by our well-meaning web techs. This year, you may have noticed that Eric took the CVAD color bar to new heights!
Harkening back to his Boy Scouts of America days, Eric embedded code into this year's color bar! Do you read Morse code? If you de-code the color bar, fill out an Alumni Update form with your mailing address, and we'll mail you some CVAD swag! And be sure to email Eric with a quick hello at Eric.Ligon@unt.edu, Morse Code optional.
Note to Communication Design and Advertising Art alumni: Check your email for a message from Associate Dean Ligon coming soon!
---
CVAD welcomes Einstein Bros. Bagels to the Art Building
Students, staff and faculty have welcomed the Einstein Bros. Bagels concession that recently opened on the first floor of the Art Building — another good place to chat when you come by to see us! The hours are 7 a.m. to 3 p.m.

Photo by Allie Moore, B.F.A. student in Studio Art: Photography
Now through Jan. 28, 2023: Exhibition — "A Banquet for Seaweed: Snapshots from the Arab 1980s," Nada Shabout, curator, CVAD Gallery, UNT Art Building, Room 160
Dec. 19: Alumni Event: UNT Scrappy Hour in Washington D.C.
Dec. 26–30: Winter Holiday Break, the university is closed
Jan. 16, 2023: Martin Luther King Jr. Day, the university is closed
Feb. 7–24: 62nd Paul Voertman Annual Juried Student Art Exhibition, Cora Stafford Gallery
Feb. 21, 2023: UNT Day at the Texas Capitol, Austin, Texas
March 4: CVAD Open House for Prospective Students, Office of CVAD Recruitment
March 13–18: UNT Spring Break — CVAD Galleries will be closed
March 21–July 8: Emmy Bright Exhibition, CVAD Gallery
June 5–16: Creative U — a summer camp for high school juniors and seniors, UNT Art Building
UNT Alumni Calendar | UNT Events Calendar

Gif courtesy of alumna Megan Motown, Class of 2010
This e-newsletter is produced by CVAD Marketing, Office of the Dean.
Questions, comments or suggestions? Contact us.
Email: cvad.Marketing@unt.edu | 940-369-5249
Mailing address: 1155 Union Circle #305100, Denton, TX 76201
Physical address: 1201 W. Mulberry St., UNT Art Building, Room 101, Denton, TX 76203-5017