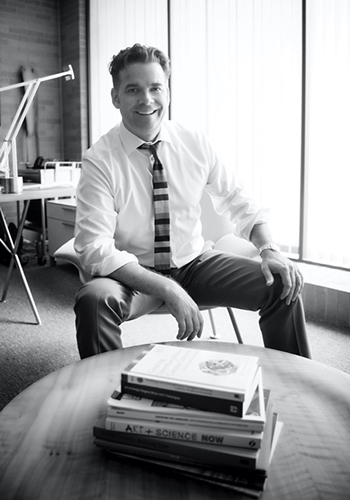 As we bid farewell to Greg Watts, professor and former dean, we also thank him for his service to UNT and congratulate him on his selection by the Cleveland Institute of Art to serve as the vice president of academic affairs and dean of faculty beginning July 5, 2022. The Cleveland Institute of Art, founded in 1892, is one of the leading accredited independent art and design colleges in the U.S.
"I'd like to thank again the whole CVAD community for all of their tenacity and patience as we transformed our college," said Watts. "I am so proud that the corner of Welch and Mulberry will never be the same. I wish everyone all the best and look forward to watching CVAD's continued success in the future."
An accomplished artist, artist educator and skilled administrator, Watts was the CVAD dean for six years and taught courses in art and business. In his new role, he will serve as CIA's chief academic officer, responsible for ensuring the curriculum delivery to students and managing the institute's educational resources.
"We are particularly impressed by Greg's thoughtful and collaborative leadership style, proactive commitment to faculty and student success," said Kathryn Heidemann, "and ability to take a forward-facing approach in navigating the paradigm shifts of higher education." Heidemann is the CIA's current vice president of academic affairs who is stepping up on July 1 to become the institute's president. "Greg's vision aligns well with our mission of cultivating creative leaders who inspire people, strengthen communities and contribute to a thriving and sustainable economy through innovative art and design. We are confident he will have a great impact on both our CIA community and greater Cleveland."
The CIA selected Watts following a national search. He will lead about 100 ranked and adjunct faculty members and oversee CIA's foundational studies, liberal arts, 13 art and design majors, and student resources such as the library, Office of the Registrar and continuing education programs.
During his tenure as dean at CVAD, Watts significantly increased the number and diversity of faculty and staff while leading the college through the $80 million construction and renovation project that resulted in 264,000 square feet of world-class facilities and the plans for the new Art Annex.
Watts will continue to serve as the vice president and president-elect of the National Association of Schools of Art and Design, a member of the executive committee and as the chair of the NASAD Commission on Accreditation.
Watts is a native of Cambridge, England. He earned an Executive MBA from the University of Denver; an M.F.A. in fine art photography from the University of Florida in Gainesville, Fla.; and a bachelor's degree with honors in fine art printmaking from Kingston University, London. He also completed the Management Development Program and Institute for Management and Leadership in Education, MLE, at Harvard University in Cambridge, Mass.