Spring 2023 UNT Great Grad Saxon Martinez
Studio Art: Sculpture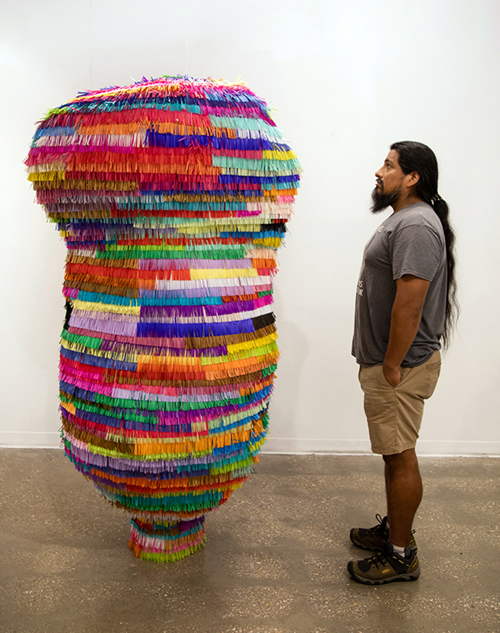 Saxon Martinez, who grew up in Oak Cliff in the 1990s, remembers the days he would hurry to his grandmother's house, head on a swivel in the rough neighborhood but full of love for the community. Next January, he'll show his art just a few blocks away at the Oak Cliff Cultural Center.
He calls it a full-circle moment.
"I never thought I would be back," he says, "especially doing what I'm doing now."
He's graduating with his M.F.A. in Studio Art with a concentration in Sculpture, but it hasn't been the easiest journey. As the first in his family to attend college, he learned about the academic process the hard way. He discovered his high school wasn't accredited when he applied for community college. He had to earn his GED to get in.
Saxon liked to draw as a child, and his parents encouraged his art, so he focused on ceramics at Mountain View College in Dallas. Then as he was finishing his associate's degree a few years after 9/11, he entered the U.S. Marine Corps. During the next nine-plus years, he would get married, have three children, live in four states and deploy twice.
The deployments were with Marine Expeditionary Units, patrolling different parts of the world on Navy ships. He served as a crew chief for an assault amphibious vehicle and worked in crash/fire/rescue, fighting fires in buildings and aircraft.
The military taught him a lot, but he says, like everything else, it carries baggage. There are skills he learned that he still uses and deployment events he is still dealing with.
When he left the military, he planned to study biomedical science at Colorado State University. However, with a friend's encouragement, he returned to art, switching his major and never looking back.
His work focuses on piñatas, though he wasn't originally interested in that motif. An undergraduate instructor advised him to "make the thing you know about" and said he could move to something else if he didn't like it.
"I very much liked it," Saxon says, "and it's a topic I'm still exploring."
The piñatas allow him to have conversations about identity, ethnicity and more. With Greater Denton Arts Council funding, he created 12 piñatas based on childhood experiences. Soccer was one of them.
"Growing up in a Latino household, the big thing was always soccer. That was seen as a way to get out of your neighborhood. You play soccer; you get really good. Maybe you go to college because you play so well," he says.
"So I made these piñatas and when people asked about them, we would have that conversation. 'I grew up in this neighborhood in this way, and these experiences led me to be at this point in time making the work and talking to you about it.' People would think about that and the idea of what art could be rather than what it should be."
His work isn't meant to last long. His earlier piñatas were designed to be broken open to spill out their candy.
"That's one of the main points of the work, the idea of value," Saxon says. "When people think of the artwork, they think of the sculpture, but the artwork is that moment when the interactions happen. The piñata is just the vessel."
Lately, he's been creating a new series of self-portraiture (he's pictured with Pela). One of his pieces was accepted for Design Week in Sydney, Australia, and he's also in the running for several awards.
Saxon says his M.F.A. committee chair, Alicia Eggert, has shared valuable insight based on her own work being "constantly in rotation in the larger art world." And he could not have done any of this without his wife, Olivia. She works in UNT's academic integrity office, and they're taking turns getting degrees.
Balancing school and family — the children are 12, 11 and 9 — is one of Saxon's biggest challenges.
"In the military, I was gone for most of my kids' younger infant years, which was difficult, and it's kind of the same thing as a graduate student," he says. "You can make it to certain things but you can't be there for everything."
As a teaching fellow, Saxon has learned he wants to continue teaching. And he wants to continue making art, especially in places where his sculptures aren't traditionally seen.
Earning this degree has been important to him in another way.
"Education is not the end all, be all of the human experience. People learn and grow in different ways," he says. "But being able to take my kids into classrooms, being able to show them what I do, helping them understand there's a bigger world than I knew growing up — that's what I'll take away from this experience."
Written by UNT UBSC Staff.