Category: Arts, Fashion, Exhibition
Nov. 8, 2021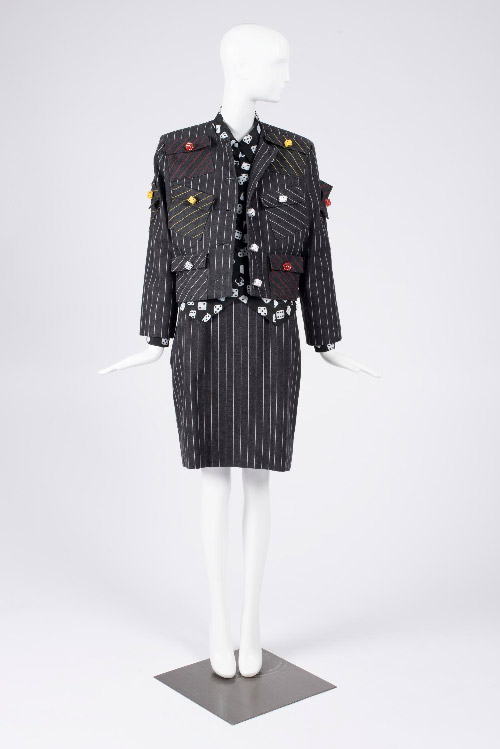 Denton, Texas (UNT) — For a look at high fashion at its most fun, the exhibition "Delight: Selections from the Texas Fashion Collection" celebrates the curiosity, wonder, joy, and whimsy sparked by its collection's unique artifacts. The project opens on Jan. 25, 2022, at the College of Visual Arts and Design Galleries at the University of North Texas Art Building.
Usually, only accessible by academic researchers, the TFC's world-class holdings include nearly 20,000 historic and designer pieces. "Delight" features a wide-ranging look at those materials, celebrating the everyday to the runway and the relatable to the fantastical.
"More than 35 unique examples of garments and accessories will be on exhibit to delight visitors. Experiencing delight and wearing clothing are both universal, but what sparks delight is deeply personal – much like how we dress ourselves," said Annette Becker, TFC curator and director. Becker hopes to inspire visitors to think more deeply about how the spark of delight can awaken an appreciation for design, craft, innovation, artistic perspective, and culture.
The exhibit will include unexpected juxtapositions to cast famous designers' work in new ways. A macabre and avant-garde sculptural black dress by Rei Kawakubo for Comme des Garcons will be shown alongside a 1955 lace and silk taffeta evening gown by couturier Cristobal Balenciaga. A recently acquired dress by Vivienne Tam featuring satirical portraits of Chairman Mao will highlight the related pop-art qualities of a 1960s Page Boy Maternity maxi dress. Internationally famous designers such as Hubert de Givenchy, Patrick Kelly, Lilly Pulitzer, Michael Faircloth, and Hanae Mori will also be featured.
"The piece in the exhibition that sparks the most delight in me is a tiara made of chicken wire and glitter created by an unknown maker in the 1930s. The materials used in this accessory spark a sense of joy at seeing a material from my childhood on a farm represented in a high-fashion context. That joy has encouraged me to think more deeply about creative reuse, materiality, and the role accessories play in self-expression – all topics I might not have considered in the same ways if not for the delight this piece created."
The exhibition programming will include an opening reception, a family day, a museum careers panel discussion for students, and a "speed dating" event to fall in love with items in the exhibition.
Exhibition Programming
As of Feb. 2, 2022:

Canceled due to inclement weather.

Professional Development Panel: Feb. 4, 12:15-1:30 p.m., UNT Art Building, Room 223, collaboration with the UNT Career Center; discussion of exhibition-related career paths led by "Delight" exhibition designer, conservator, and graphic designer; free and open to the public. The panelists are the following.

Carlos Castillo, exhibition design, Zero Productions, Richardson, Texas
Stefanie Dlugosz-Acton, gallery director, UNT CVAD Galleries, Denton, Texas
Lauren Huber, graphic designer, Denton, Texas
Melanie Sanford, textile conservation, Conserving Threads Studio, Dallas

Opening reception: March 24, 5-7 p.m., UNT Art Building Courtyard and CVAD Galleries; welcoming UNT and community members with gallery viewing and refreshments; free and open to the public.
Family Day: March 26, noon-4 p.m., UNT Art Building Courtyard and CVAD Galleries, collaboration with the UNT Alumni Association; art-making activities and exhibition tours in English and Spanish; registration required, open to the public.
"Speed Dating" for UNT OLLI Members: April 22, noon-1:30 p.m., UNT CVAD Galleries; in collaboration with the UNT Osher Lifelong Learning Institute; OLLI members will circulate around the gallery to hear short research presentations on exhibition artifacts; OLLI registration required.
Exhibition closing date: May 21, 2022.
Images
Artifact 1: Image link
Patrick Kelly, designer, a pinstripe skirt suit with novelty dice print and buttons (detail), Spring-Summer 1989, Museum Purchase, Texas Fashion Collection. Detail of boxy black pinstripe jacket with randomly placed pockets and colorful dice buttons and blouse with black-and-white dice motif on a mannequin.
Artifact 2: Image link
Michael Faircloth, designer, a white and gold evening dress with embroidery at the bust, 2006, Gift of Laura Miller, Texas Fashion Collection. A floor-length, sleeveless evening dress of shiny gold silk and a bodice with white silk embroidered with scrolling motifs in gold thread, shown on a white mannequin.
Artifact 3: Image link
Vera Wang, designer, an evening dress of black silk and netting, Spring-Summer 2000, Gift of Mercedes Bass, Texas Fashion Collection. A floor-length, strapless, black evening dress with a fitted bodice and voluminous skirt made of layers of netting, shown on a white mannequin with dramatic lighting.
-30-
Contact Information
Media Contact: Heather Noel, Heather.Noel@unt.edu, UNT Media Relations
Exhibition Contact: Annette Becker, director, Texas Fashion Collection, Annette.Becker@unt.edu
Galleries Contact: Stefanie Dlugosz-Acton, director, UNT CVAD Galleries, Stefanie.Dlugosz-Acton@unt.edu
CVAD Marketing: Monica Scott, Monica.Scott@unt.edu
Follow UNT CVAD on Facebook and Instagram
More information
Texas Fashion Collection website | UNT CVAD Galleries
UNT CVAD website
CVAD News and Views website
The College of Visual Arts and Design is led by Dean Karen Hutzel, Ph.D., and is considered one of the best and most comprehensive visual arts schools in the nation. The CVAD programs include a nationally ranked graduate fine arts program, a graphic design program ranked first in the Southwest and the state's only Ph.D. in art education. CVAD offers 16 undergraduate and 13 graduate degree programs, a graduate certificate program and concentrations ranging from Art History to Communication Design to Photography, including eight programs with minor fields of study.
UNT is one of the nation's largest public research universities with nearly 41,000 students. Ranked a Tier One research university by the Carnegie Classification, UNT is a catalyst for creativity, fueling progress, innovation and entrepreneurship for the North Texas region and the state. UNT students earned 10,000 degrees last year from its 14 colleges and schools and the university offers 109 bachelor's, 94 master's and 36 doctoral degree programs, many nationally and internationally recognized.