Alycia Serna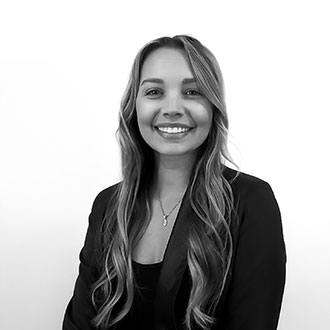 Project Industry: Residential
Favorite quote: "I am going to make everything around me beautiful—that will be my life." Elsie de Wolfe
Alycia Serna has a deep - driven passion for residential interior design. After high school graduation, she spent her first semester of college at OSU studying journalism. After a long semester, she soon realized that journalism was not her interest. So, moving home, Alycia spent the next two years getting her basics at north central texas college. At this time, she was working on figuring out her future. After multiple jobs and countless venture turndowns, Alycia started working for a custom cabinet business designing millwork for high - end residential homes and renovations. Little did she know this was the beginning of her love for all things interior design. Through her years of hands - on experience, Alycia decided to further her career in interior design by attending the university of north texas. During these four years, she has increased her knowledge in the field of design while at the same time building her image, and business and developing her list of clientele. After her graduation in May 2022, Alycia plans to officially start her own interior design business here in north texas and continue to build her portfolio.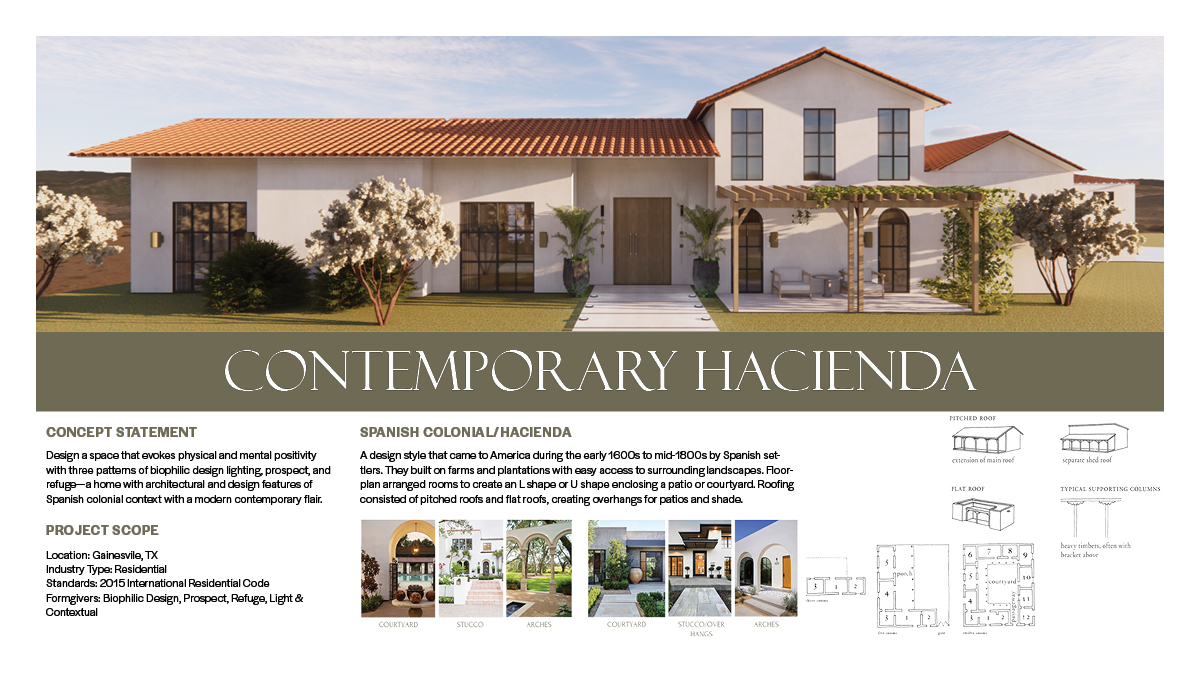 Slide 1: Front elevation view of a contemporary hacienda home with white stucco siding and a terracotta roof. Large plants and vines encase a wood pergola near tall contemporary windows.
Multiple images comparing Spanish colonial architectural aspects with contemporary architecture. Similarities are arches, courtyards, and stucco siding. Floor plan describing U - shaped and L - shaped Spanish floorplans dating back to the historic context. As well as roofing examples.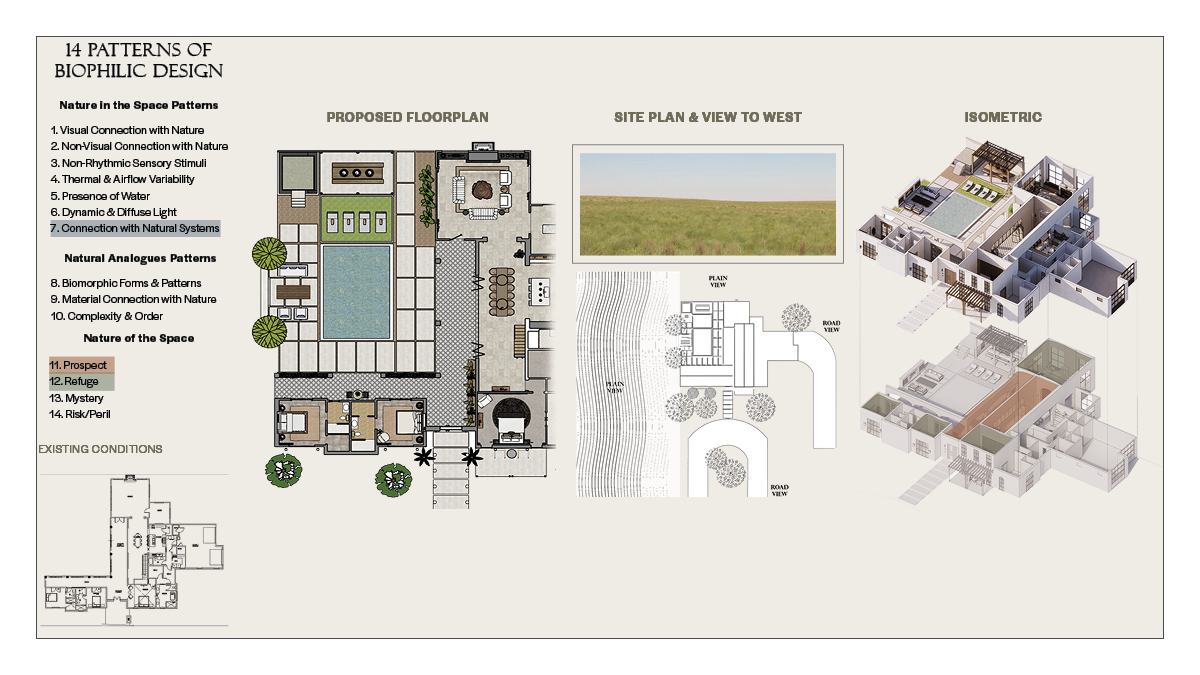 Slide 2: Rendered floorplan showing concrete, tile, and furniture materials. Large courtyard enclosed by an L - shape floorplan. Scenic grassland view to the west of the courtyard, and an isometric floorplan describing the location of all areas of refuge and prospect. Bedroom, living room, entry, and main dining hall.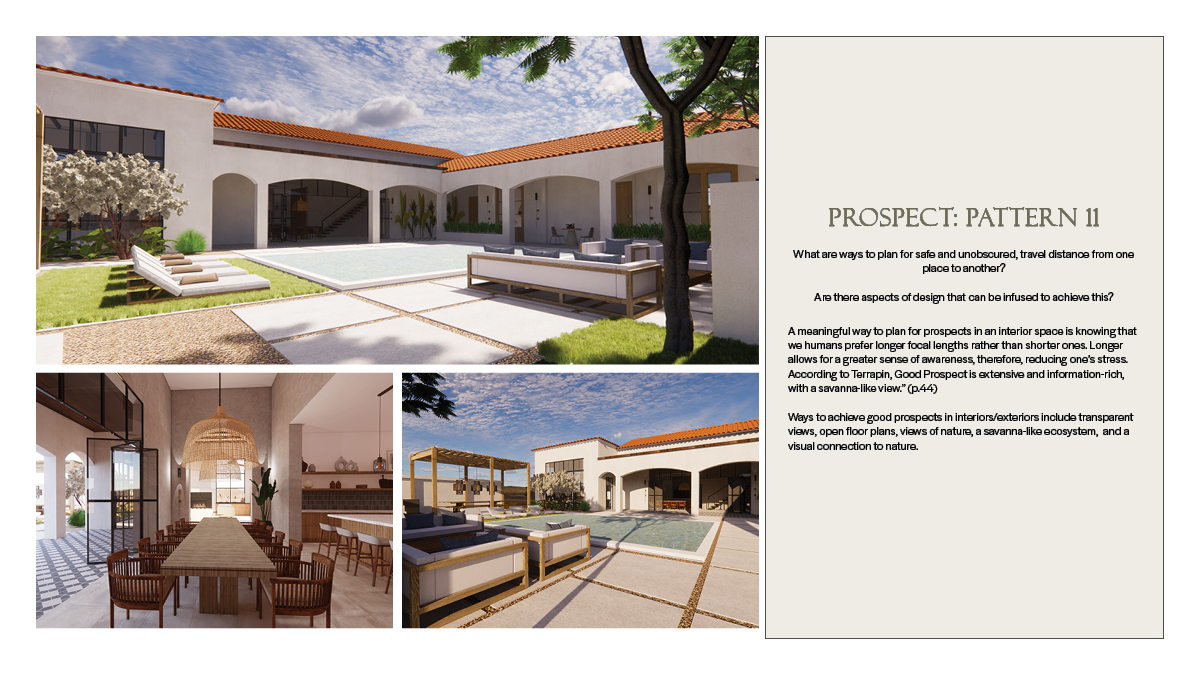 Slide 3: Large top photo consists of a courtyard perspective view showing exterior patio arches and columns. Lounge seating on the right sitting on a patch of green grass and surrounded by paved concrete stone tiles. Firepit sitting on the left. The bottom left image of a wood dining table, wood chairs, and wicker pendants hanging from tall ceilings.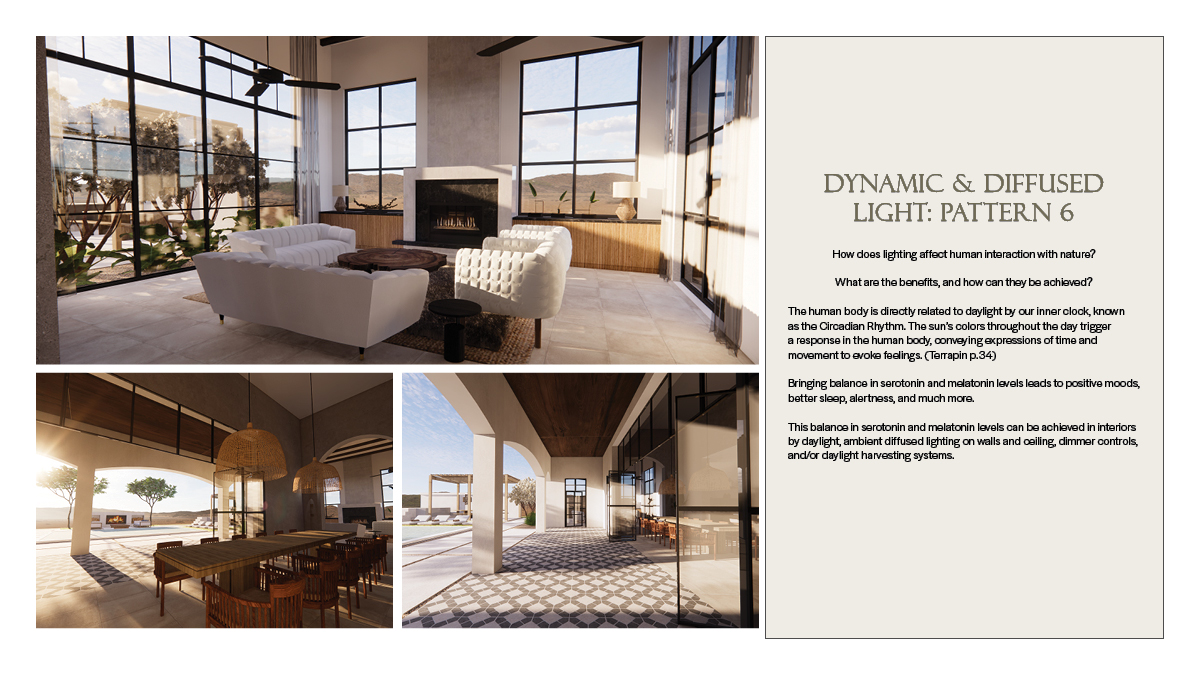 Slide 4: Living room two white sofas and armchairs. Surrounded by tall ceilings and windows. Fireplace in the center of the furthest wall and two wooden cabinets on each side. Bottom right - hand corner wood dining table, wood chairs with large wicker pendants lit by the sun setting the background from large bi - fold glass doors. Bottom left - hand image of entry prospect view with black and white tile, arches, and columns on the left with a view to the courtyard and large glass bifold doors on the left.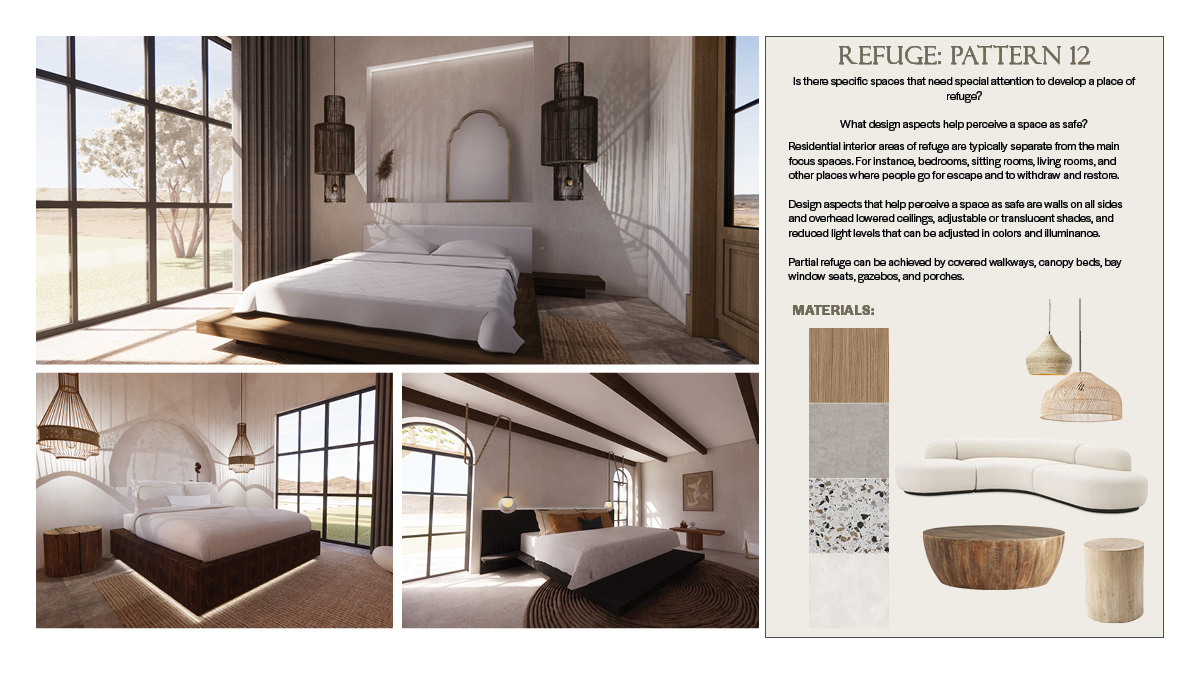 Slide 5: Consists of images of bedrooms with soft light walls and wood textures. Materials showcasing concrete, terrazzo, walnut wood grain, and stucco. Furniture pieces such as white sofa, wicker pendants, and tree stump tables.