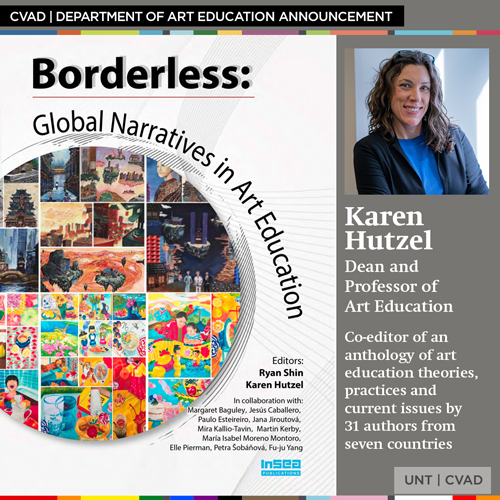 The International Society for Education through Art announces its publication of "Borderless: Global Narratives in Art Education," co-edited by CVAD Professor and Dean Karen Hutzel, and University of Arizona Professor Ryan Shin.
The 507-page anthology expands national borders of art education, providing a global sense of the theories, practices, and current issues relevant to global and regional conflicts and concerns. The 31 authors representing seven countries and five languages provide a global snapshot of art education theories, voices, and narratives, representing their own unique responses toward globalization and beyond Western-centric narratives. The editors' vision was to capture the voices of other journals that also cover issues within this theme into one place to best represent and archive a global perspective on art education.
The breadth of representation in this book engages readers through a globally expanded understanding of the field, advancing transnational scholarship and research in art education.
Excerpt from the Introduction: "When facing global issues and divisions, contested worldviews, and ontological discourses, art educators are challenged to reflect on established views about and beyond local or regional history, culture, and knowledge. We live in a global world, and while scholars have argued the benefits and drawbacks of globalization as an extension of the Western ideal on Eastern and developing countries, those researching and writing on the topic tend to agree that globalization exists and is therefore relevant to consider as an educational concern (Razak & Abbas, 2011; Sinagatullin & Mesquita, 2006). Consequently, educating students well means preparing them for a global world economically, socially, critically, and culturally."
InSEA is a non-governmental organization and official partner of the United Nations Educational, Scientific, and Cultural Organization, concerned with education through art to shared experience.
Editors from contributing journals: Margaret Baguley, Jesús Caballero, Paulo Esteireiro, Jana Jiroutová, Mira Kallio-Tavin, Martin Kerby, María Isabel Moreno Montoro, Elle Pierman, Petra Sobánová, Fu-ju Yang. Cover Design: Cathy Xu | Design: Elle Pierman
Image: Book cover with the title and credits and a collage of images depicting various cultures in the shape of the planet, InSEA logo and a head-and-shoulders portrait of Dr. Hutzel smiling at the camera, long dark hair, blue jacket.