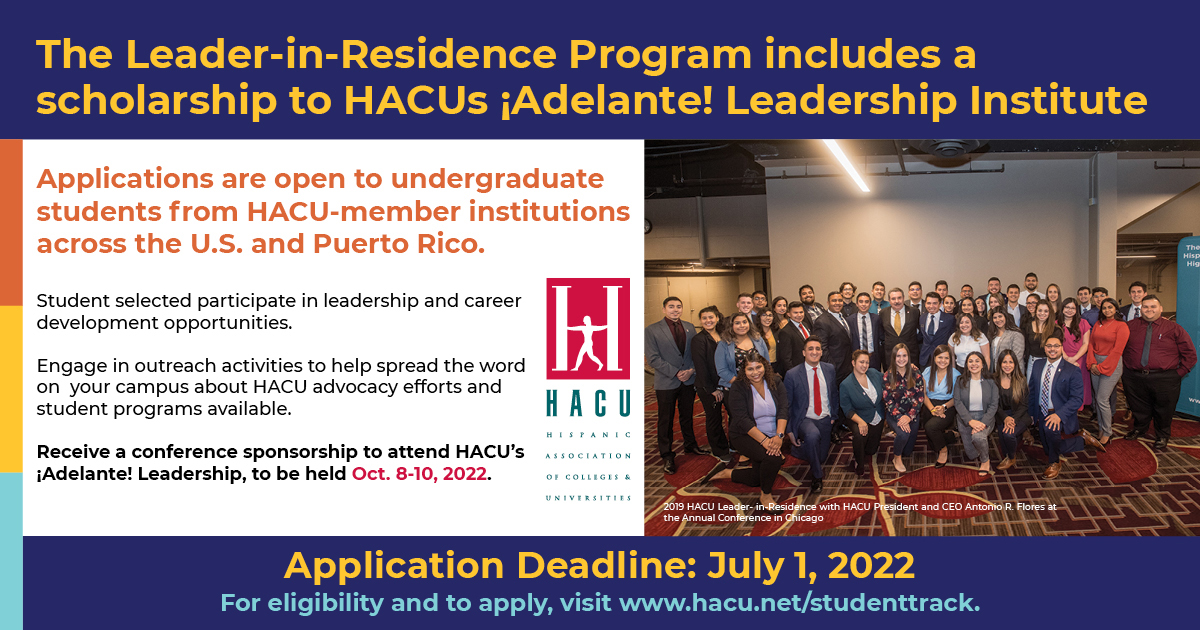 HACU now accepting applications from undergraduates for the Leader-in-Residence Program
The membership of the University of North Texas in the Hispanic Association of Colleges and Universities makes UNT students eligible to apply for the HACU Leader-in-Residence Program, a competitive career and leadership development program available only to students from HACU-member institutions in the U.S. and Puerto Rico.
Selection includes a sponsorship to the annual conference to attend the ¡Adelante! Leadership Institute, Oct. 8–10, in San Diego, Calif., conducted during the HACU annual conference.
Deadline
The deadline to apply is July 1, 2022. If selected, CVAD will consider some funding support for your travel expenses.
About the Program
Benefits of the program include the following.
¡Adelante! Leadership Institute Sponsorship
Participation in Leadership Development webinars throughout the year
Certificate of Completion upon meeting all of the requirements of the leadership program
Complimentary HACU Student Affiliate Annual Membership
Eligibility
Minimum 3.0 Grade Point Average
Currently enrolled in an undergraduate degree program
Must be eligible to work in the U.S.
Have not received a HACU Conference Sponsorship for the 2021 Annual Conference
Must be enrolled at a college or university in the of Fall 2022
Must be willing to be sponsored by a corporate, federal, or nonprofit sponsor
Apply Online