"Innovate to Elevate," the theme of the 2022 annual conference of the International Textile and Apparel Association, is where CVAD Fashion Design faculty and students, presented their scholarly research and amazing designs, Oct. 26–29 in Denver.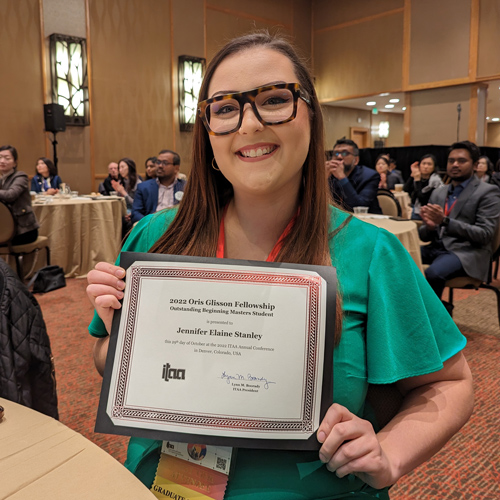 Highlights at the conference include the following faculty and student poster presentations and exhibitions. Additionally, Jennifer Stanley received the prestigious 2022 Oris Glisson Fellowship as the year's outstanding student in a beginning master's degree program. See photos of the event.
Research Presentations
Hae Jin Gam: "Do Fashionable Masks Still Matter Even if We Feel Vulnerable and Perceive Severity Amid the Pandemic?"
Barbara Trippeer: "Circular Design Challenge: An Interdisciplinary Approach to Sustainable Development in STEAD Disciplines"
Chanjuan Chen, Hae Jin Gam, Jennifer Staley: "Collaborative Teaching for Technology-Based Fashion. Design Undergraduate Courses"

Professional Exhibitions
"Modular Illusion" and "Embellished Modularity" by Chanjuan Chen
Graduate Student Designs Exhibitions
"Written in the Stars" by Jennifer Stanley
"Butterfly Effect" by Spring 2022 alumna Soojin Risen

Undergraduate Student Design Exhibitions
Presented by Associate Professor and Mentor Hae Jin Gam:
"Coalesce" by Cindy Gonzalez and "The Pyramid" by Uyen Nguyen, who did not attend the conference
The International Textile and Apparel Association promotes the discovery, dissemination, and application of knowledge and is a primary resource for its members in strengthening leadership and service to society. ITAA is a professional, educational association composed of scholars, educators, and students in the textile, apparel, and merchandising disciplines in higher education. Several UNT participants also participated in poster sessions and panel discussions, and Jana Hawley, dean of the UNT College of Merchandising, Hospitality and Tourism, received the ITAA Distinguished Scholar Award.