Student winnders Lily Flandorfer, left, Vy Luu, Trang Mai, Keeley Makayla Seim, and Johnathan De La Cruz. Photo credit: Alisa Otto
Fashion Designers win at the 2023 Fashion Group International Dallas Scholarship Competition
Eight fashion design students recently won big at the 55th annual Fashion Group International of Dallas Scholarship Competition at the Dallas Market Center. The Fashion Forward — Motivating Minds in Design event celebrated the Future of Fashion.
Each year, FGI Dallas invites college and university students in fashion design and merchandising studies to participate and compete for more than $40,000 in scholarship awards in four categories. Fashion design categories include black tie and bridal, cocktail and party, daywear and streetwear and apparel sustainability.
The winning designer names follow.
Trang Mai, senior
Paris American Academy Couture Award: Study abroad opportunity in Paris
Johnathan De La Cruz, senior
1st place Daywear/Streetwear Award: $2000
The Finley Shirt Apprenticeship Award: 12 weeks opportunity to work under a local established design professional.
Lily Flandorfer, senior
2nd Place Black Tie/Bridal Award: $1000
Vy Luu, senior
Best of Sewing Award: Donated tools or services in support of the student's fashion education.
Keeley Makayla Seim, junior
2nd Place Cocktail/Party Award: $1000
Honorable Mentions went to the following seniors.
Whitney Eblen
Christian Thornton
Ava Weissgarber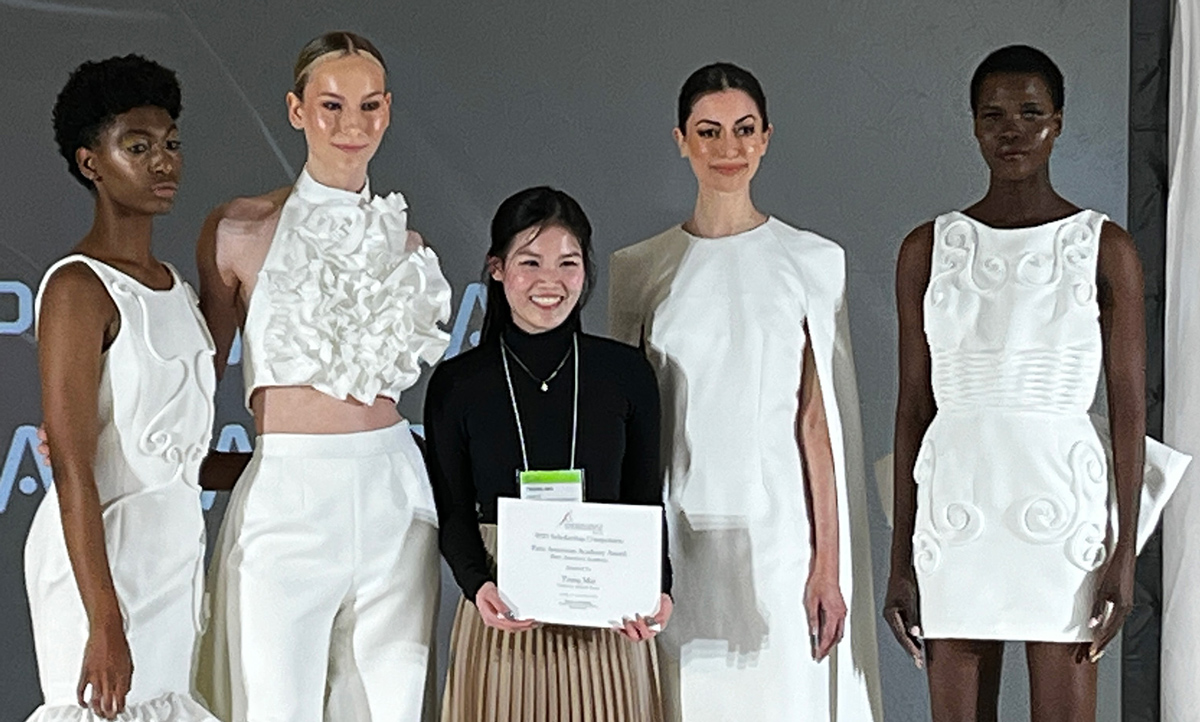 Fashion Design student Trang Mai holds her award certificate standing with four models wearing Mai's white wedding gown designs. Photo credit: Alisa Otto