Fashion Design Highlight: UNT Fashion Design + Kinfolk House Collaboration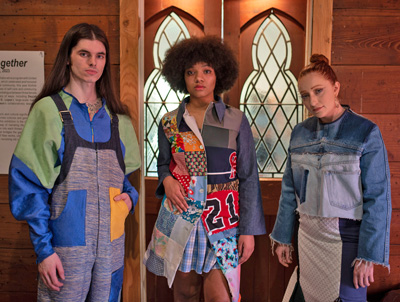 Eleven CVAD fashion design students recently featured their work at Kinfolk Couture, a spring gallery event at the Kinfolk House, as part of Fort Worth Gallery Night. The designers focused on the theme of community and self-care.
Inspired by quilting, nostalgia, and comfortable clothing, the students used donated, scrap, or repurposed textiles to creatively answer the question, "What does it mean to collaborate?"
Timothy Freeny, Karisme Lucas, Isabella Murphy and Holly Sullivan designed the first look drawing from the quilting circle as inspiration. This asymmetric shirtdress explores scrap quilting and block quilting and highlights the process of piecework. Experimentation with texture and symmetry celebrates the imperfections of the traditional quilt.
Collin Farley, Zayn Hasan and Ahmad Sessions designed the second women's ensemble featuring a denim pullover and a paneled skirt that reimagines the schoolyard parachute game. This activity evokes memories of joy and cooperation. The denim pullover was made by repurposing old jeans from the design team and peers.
Dominique Hawkins, Edwin Olmedo, Christian Thornton and Kelli Wright styled patchwork and the functional appeal of workwear in the men's ensemble. Drafted virtually in CLO, 3D fashion design software, this design includes a color-blocked raglan shirt paired with retro overalls with denim accents and a smocked hem.
The designers presented their work to a live audience and directed a photoshoot with photographer Sanchez Murray and models Olivia Murphy, Tyler Luscombe, and Holly Sullivan. From this experience, students developed collaborative design, project management, and professional presentation skills.
Kinfolk House is a community-based gallery and project space co-founded by Letitia Huckaby, CVAD alumna and visiting assistant professor of Studio Art. The 100-year-old house, located at 1913 Wallace St., Fort Worth, Texas, is dedicated to amplifying "beauty, talent and culture" through exhibitions, education and programming.