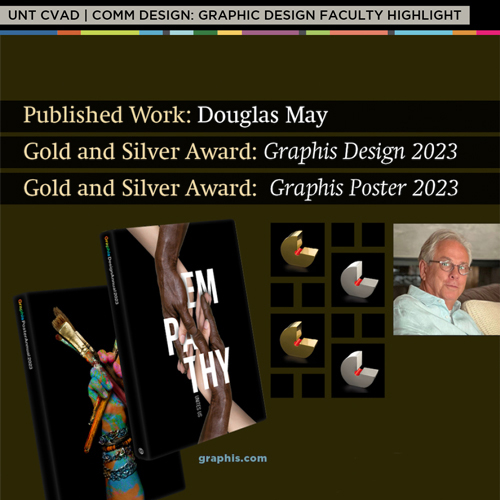 Graphis Publications has recognized four graphic design works recently created by Doug May, assistant professor for Graphic Design in the Communication Design program.
May was awarded two gold and two silver awards for his selected designs in two individual competitions, the Graphis Design Annual 2023 and Graphis Poster Annual 2023. The Graphis Awards are among the most prestigious international juried design competitions.
Graphis publishes the world's most prestigious annuals with award-winning work from international talents in design, advertising, art/illustration, photography and more.
May's works are published in the printed annuals and exhibited online on the Graphis website.
Link to May's winning poster: "Polish Jazz! Yes!"
Visit May on Instagram @manyracowboy
Image: Text reads "Published work: Doug May. Gold and Silver Award: Graphis Design 2023. Gold and Silver Award: Graphis Poster 2023." The covers of both publications are displayed at an angle with a head-and-shoulders portrait of May smiling at the camera, a silver-haired man wearing glasses.