UNT IAA selects Ana M. Lopez as a 2023 faculty fellow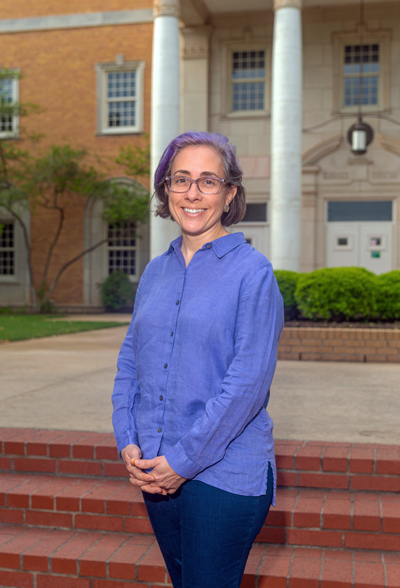 Each year, the UNT Institute for the Advancement of the Arts Faculty Fellows program selects UNT faculty to focus on creative endeavors for a semester and then bring their enhanced perspectives to teaching.
Ana M. Lopez, associate professor in Studio Art: Metalsmith and Jewelry, will explore the expressive potential of the bolo tie, its history in marginalized communities and its current relevance as a gender-neutral form of adornment. Background research will be conducted in Phoenix in the Billie Jane Baguley Library and Archives at the Heard Museum. It houses a collection of bolo ties and extensive records of their makers. This research will bring about a new art piece and be the basis for "Everybody's Bolos," a traveling exhibition of contemporary interpretations of the bolo tie, along with an accompanying catalog essay.
Lopez is the co-curator of the Spring 2024 exhibition "Bolo Ties," scheduled for installation in the CVAD Gallery. She is collaborating with Brian Fleetwood, an enrolled citizen of the Muscogee Nation of Oklahoma and an assistant professor in Studio Art at the Institute of American Indian Arts and Hannah Toussant, a metalsmith and craft artist who recently completed a year-long post-baccalaureate program in Metalsmithing and Jewelry at UNT CVAD.
"On a deeper level, this exhibition is about recognizing stereotypes, exploring them and expanding beyond their limitations through the agency and inclusivity of craft," Lopez says.
Lopez is a metalsmith, educator and decorative arts scholar. Her creative work has been exhibited nationally and internationally, including exhibitions at the Mesa Contemporary Arts Museum in Mesa, Ariz., and the National Ornamental Metal Museum in Memphis, Tenn. She is the author of the reference book "Metalworking Through History: An Encyclopedia" and numerous other scholarly articles. Previously, she served as a member of the Fulbright Specialist Roster and was selected for a 2019 Maker-Creator Fellowship at the Winterthur Museum, Garden and Library.
The mission of the UNT Initiative for the Advancement of the Arts is to showcase support and advance excellence in the visual, performing, and creative literary arts at UNT among its faculty members and in conjunction with their renowned colleagues and collaborators.