The College of Visual Arts and Design Foundations and Interdisciplinary Art and Design Studies present a 38-student class exhibition!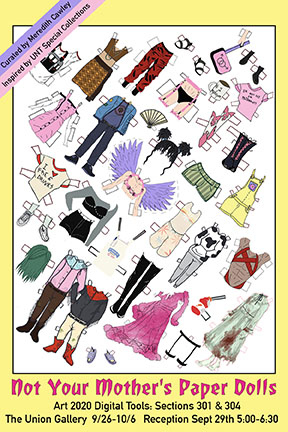 Exhibition: "Not Your Mother's Paper Dolls," curated by Meredith Cawley
Sept. 26–Oct. 6, 2022
University Union Art Gallery
Reception: Sept. 29, 5–6:30 p.m.
Free and open to the public. Please join us!
Foundations and IADS students visited the Patricia Fertel Paper Doll Collection in the UNT Special Collections section of the University Libraries. The visit was part of their Spring 2022 Digital Tools and Technologies course taught by Meredith Cawley, adjunct faculty.
During the visit, students viewed the dolls up close, taking note of details such as color, construction and material.
The artifacts date from 1865 through 2020 and feature celebrities, fashion and popular culture. The materials cover each period's style and popular culture and give a glimpse of publications from Europe and the U.S.
Students responded to Cawley's prompt, "If a paper doll is a time capsule of the prevailing social norms and mores, then what does a current paper doll have to say about contemporary culture?" Many students chose to answer by creating self-biographical dolls about their heritage or relationships or a new world to explore.
Participating Students
Rosa Acevedo
Leigh Aliel Cabuslay
Yendalexy Avila
Alan Bruce
Madison Burns
Tracy Campos
Yadira Cervantes
Christine Chen
Jayda Davis
Alexandria Erwin
Sheyenne Gibson
Taylor Harlan
Abigail Harris
Yara Hoteit
Emily La
Clara Luft
Amy Lyons
Jaryn Macdonald
Maddalena Miniscalco
Itzel Orduna
Sole Oren
Manuel Parra
Monsserath Quintana
Genessis Ramirez
Madison Ramos
Hannah Reed
Brittany Rodriguez
Treena Sath
Alaina Schuele
Keeley Seim
Reagan Shaw
Addison Stevens
Vanessa Taylor
Morgan Thompson
Sabrina Vitela
Lili Walker
Robert Williams
Veronie Xavier
Image: A card in the style of an old paper-doll booklet cover in a butter yellow with a white framed area in the center with tabbed paper doll clothing and accessories with four covers of paper dolls from the collection.