Department of Design presents Textiles and Design for the Well Being of People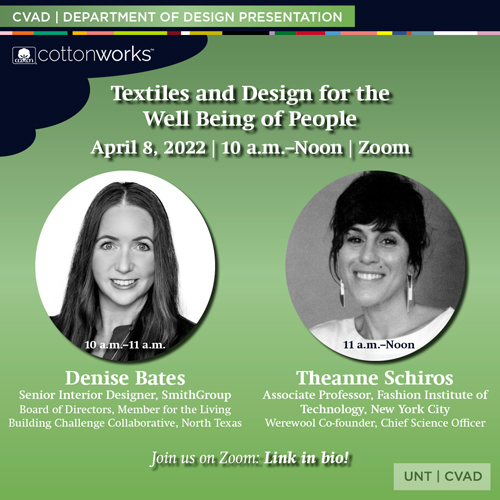 April 9 update: This session was recorded; view it now.
Guest Speakers: Denise Bates and Theanne Schiros
April 8, 2022
10–11 a.m.: Interior Design
11 a.m.–Noon: Fashion Design
10 a.m. Session: Interior Design
Denise Bates, CDT, IIDA, WELL AP, LEED AP BD+C
Senior Interior Designer, SmithGroup, Dallas
Denise is focused on the conservation of resources and seeing opportunities to make a real meaningful impact She is very engaged in the local community as a founding member and on the Board of Directors for several organizations such as the North Texas chapter of the U.S. Green Building Council®, the Living Building Challenge Collaborative NTXC, and Texas Materials Initiative. Denise has made a point to breathe environmentally conscious attributes into every project Her design philosophy is to find beauty in all things. to respect the environment. and to bring joy to everything she does.
11 a.m. Session: Fashion Design
Theanne Schiros, Ph.D., associate professor, Fashion Institute of Technology, New York City
Theanne guides students to rethink materials in collaboration with nature as a research scientist at Columbia University. She earned a Ph.D. in Chemical Physics from Stockholm University, followed by postdoctoral research at Stanford University and Columbia University, where she served as a United Nations ECOWAS Fellow, an NYSERDA Fellow, and an Energy Frontier Research Center Fellow, developing advanced materials for low power electronics, photovoltaics and photocatalysts. Theanne is a co-founder and the Chief Science Officer at Werewool, engineering biodegradable textile fibers with DNA-programmed color and performance.
This presentation is generously supported by a grant from CottonWorks.
Questions? Please contact the Department of Design, cvad.design@unt.edu.