Metropolis magazine selects Yuleta Rouen as a Future 100 Interior Designer in the U.S. and Canada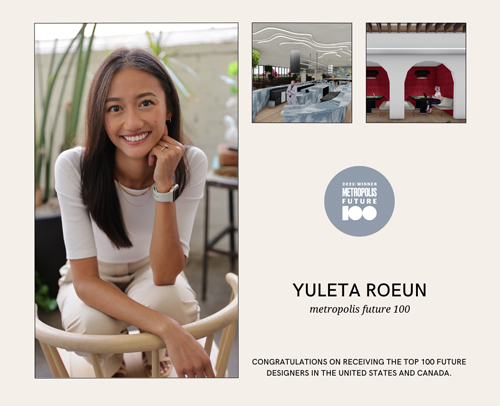 Metropolis magazine sets out to designate the top graduating interior design and architecture students in the U.S. and Canada each year. Undergraduate senior Yuleta Roeun, nominated by Associate Professor Johnnie Stark, is the only winner from UNT selected by the Metropolis team and only one of two from Texas.
Roeun became interested in design at an early age, likening buildings to human beings. The exterior can draw you in, but you are unlikely to return if the interior does not make you feel safe and productive. Her winning portfolio reflects consistent attention to these relationships, employing detailed processes supported by research-based behavioral theories and material analysis.
Metropolis is an internationally recognized design-and-architecture-concentrated magazine focusing on ethics, innovation and sustainability in the creative sector. The magazine was established in 1981 and is based in New York City. Metropolis's work toward the future is based on its motto, "Design at all scales."
The magazine is published 10 times a year with over 50,000 subscribers. Metropolis publishes both print and digital editorial coverage, encouraging design-focused conversation through a range of diverse mediums.
Image: Yuleta Roeun, a woman with long dark hair smiling, wearing a white blouse and tan trousers, sitting on a wooden chair with indoor plants in the background. Two smaller images of her work are located on the top right; restaurant design and commercial design and the Metropolis Future 100 logo. Text: "Congratulations on receiving the Top 100 Future Designers in the U.S. and Canada."