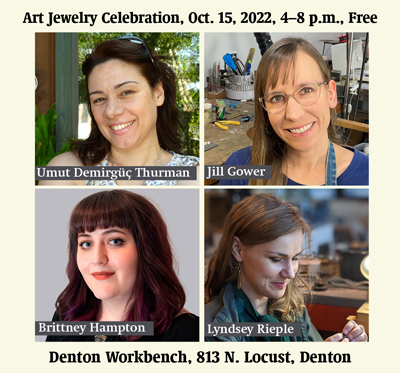 Studio Art Metalsmithing and Jewelry Program: Invitation to the Art Jewelry Celebration
Come one, come all for a new event in Denton!
Mark your calendar!
Oct. 15, 4–8 p.m.
Denton Workbench
813 N. Locust St., Denton, TX 79601
Free | Open to the Public
The event will feature one-of-a-kind and limited production pieces from a range of art jewelers, from established professionals to rising stars.
Come to enjoy food, refreshments and live music in a festive atmosphere.
Participating Artists
UNT graduate students
Brittney Hampton
Avery Lyda
Jordan Patrice Scott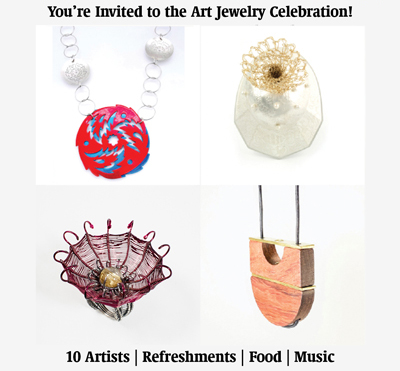 Alumni
Gillian Hernandez
Lyndsey Rieple
UNT Faculty and Staff
Jill Baker Gower, CVAD Career Coach
Umut Demirgüç Thurman
Kristen Kendrick Bigley
James Thurman, associate professor
The annual Art Jewelry Celebration is hosted by James Thurman, Umut Demirgüç Thurman and the Denton Workbench.
Image 1: Features four of the artists, Gower, Hampton, Rieple and Thurman smiling
Image 2: Four handmade jewelry artworks, a brooch, two necklaces, and a ring