Derrick R. White
1997, M.F.A. and 1992, B.F.A., Studio Art: Drawing and Painting
Chair, Art Department and professor of Art, Tyler Junior College, Tyler, Texas
Website
Instagram
Congratulations to Derrick White on his current exhibition!
"Maybe It's Me"
Through Aug. 22, 2022
Gallery hours: noon–5 p.m. on Saturday and Sunday or by appointment, 214-942-5241

Mighty Fine Arts Gallery
409A N. Tyler St., Dallas 75208
Bishop Arts District between W. Eighth and W. Davis streets
Mighty Fine Arts presents "Maybe It's Me," featuring past and present works by Derrick White.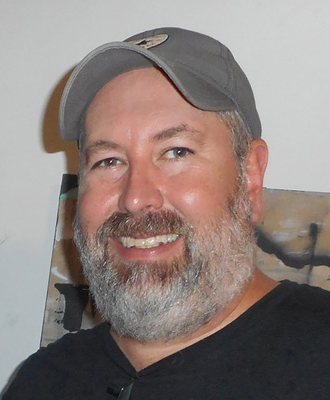 This exhibition presents White's work spanning 14 years of his career. The paintings reflect a vibrant internal dialogue constantly intersecting with current attitudes and historical events. White envisions his paintings as a therapeutic way of dealing with the disorder and flux of a turbulent world. The effect of his pieces is lavish and energetic, full of contrasting notions and exuberant invention.
Derrick White has worked as a professor in the Art Department at Tyler Junior College since 2001 and became the department chair in 2015. He teaches painting, art appreciation, and honors art appreciation with film studies. He works with two other UNT CVAD M.F.A. alums Paul Jones and Chance Dunlap.
Derrick is the sponsor of TJC's Art Club and has been for 20 years. As a professional artist, he recently had a 2022 solo exhibition at Gallery Main Street in Tyler, Texas, titled "The Rivers of My Memory." Derrick participated in the 2021 Artspace 111 Texas Juried Exhibition in Fort Worth, and he curated the 2021 exhibition, "Pine Curtain: Selected Artists of East Texas," exhibiting selected emerging artists at Mighty Fine Arts, Dallas. White has artwork in numerous collections across the country including the permanent collections of the Longview Museum of Fine Art and the Tyler Museum of Art.
White has been honored with the Rick Diamond Excellence in Education Award, the Alpha Omicron Chapter Phi Theta Kappa Star Professor Award, the Excellence in Teaching TJC Mattie Alice Scroggins Baker award, and the Endowed Chair for Teaching Excellence TJC Dorothy Fay and Jack White award.
His artwork has been selected as a Hunting Art Prize finalist and has been recognized with numerous awards including five best of shows.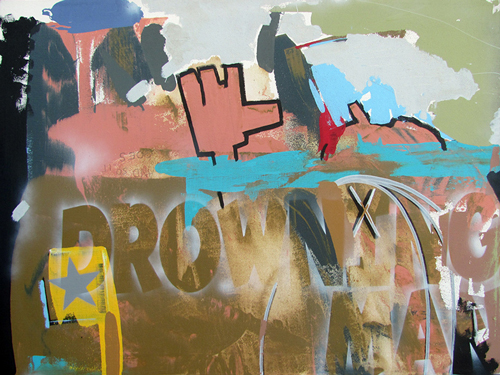 From the "Maybe it's Me" Exhibition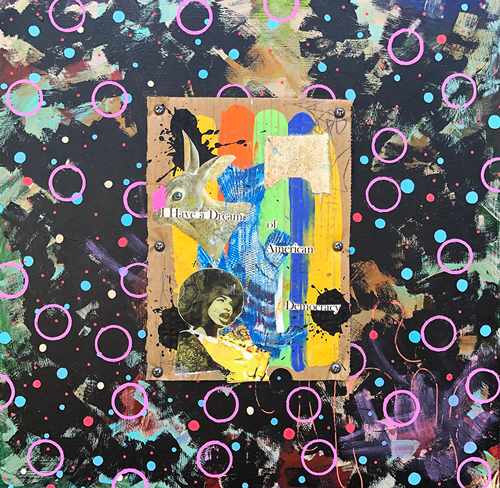 "If Wishes Were Horses Beggars Would Ride," 2022
Mixed media
22 x 22 inches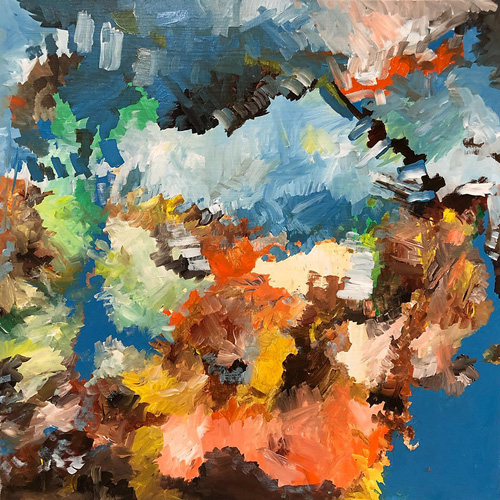 "Gaining a New Understanding," 2021
Acrylic on canvas
48 x 48 inches