Victor Rodríguez
b. 1932
UNT: B.F.A., 1955, Art Education | M.A., 1962, Education
Ph.D.: University of Texas at Austin
2022 UNT Distinguished Alumni
Member of the National Hispanic Sports Hall of Fame
Founder of the Victor and Flo Rodriguez Future Coaches Scholarship at UNT
Hometown: Edna, Texas
Teacher, coach, cross-country athlete, author, administrator
San Antonio Superintendent of Schools, 1982–1994
2015 San Antonio ISD Athletic Hall of Fame
UNT Lifetime Achievements and Awards Display
Victor Rodríguez was a former San Antonio ISD superintendent. During his 36-year tenure, he also served as a teacher, coach and administrator from 1957 to 1982. Rodríguez was the cross country, track and football coach at the former Cooper Junior High School and at Lanier and Highlands high schools in San Antonio, Texas. His cross-country teams won three city championships in four years, and his 1967 Highlands High School track team was runner-up at the UIL state track meet.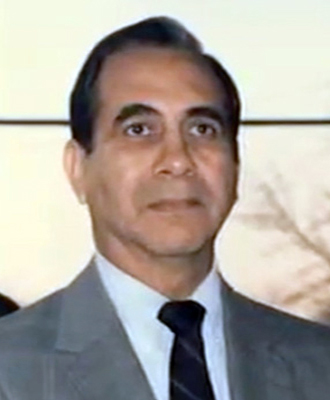 Rodríguez was the first Hispanic superintendent for the SAISD and chairman of the Texas University Interscholastic League. During his 12-year tenure as superintendent, Rodríguez guided the District in significantly reducing the dropout rate to less than 10 percent. Under Rodríguez's watch, every SAISD school was air-conditioned for the first time in 1986.
Upon retiring in 1994, Rodríguez wrote an emotional autobiography titled "The Bell Ringer." In the book, he chronicled his childhood in Edna, Texas, where at the age of nine and until graduating from high school, he woke up at 4 a.m. daily and ran two miles from his home to ring the bell at St. Agnes Catholic Church in time to start mass.