Zoe Doyle
Project Industry: Residential
Favorite quote: "... for my purpose holds
To sail beyond the sunset and the baths
Of all the western stars, until I die."
From "Ulysses" by Alfred, Lord Tennyson
Born and raised in Houston, I was exposed to many design-related activities and opportunities. For instance, my grandmother would take me to see showrooms downtown, and I remember being in absolute awe exploring what each space had to offer. As I grew older, I was able to shadow a professional interior designer who also happened to be a friend of my parents in the design district. There, I had the pleasure of seeing how she maneuvered through the design process first-hand. I've always been a creative individual — whether crocheting, knitting, or designing graphics; there has always been an interest and fulfillment in seeing something I've created from start to finish. I am very detail-oriented, and interior design allows me to dig deep into every technical aspect. I am wholly engulfed in the process, whether playing with colors, putting together a design presentation, 3D modeling, or drafting construction documents. I am very excited to use the knowledge I've gained as an interior design student at UNT to create beautiful and functional environments.

Slide 1 is titled Timeless: A Study on Aging in Place. This slide pictures a 3D rendering of a multi-storied building's street entrance at an intersection in Houston; the path to the elevator is inset to show the actual location of the elevator and condominium unit within the building. This slide explains the concept and existing conditions and has four investigative questions about aging in place, environmental press, sustainability, and university design.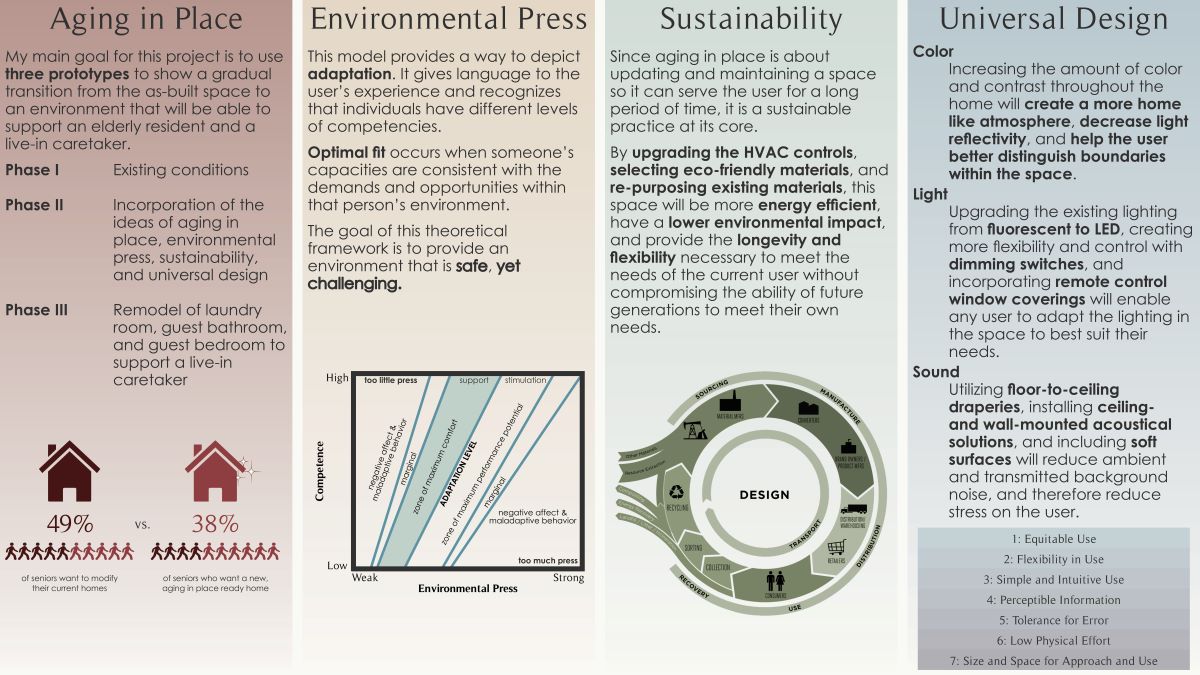 Slide 2 addresses the four main ideas: aging in place, environmental press, sustainability, and universal design. Side-by-side graphic shows that most people prefer to modify their current homes rather than buying a new, aging-in-place ready home. The table of the environmental press model shows how the ideal balance between environmental press and competence is an adaptation and how too much or too little environmental press affects the user. Graphic showing the cycle of materials from sourcing to manufacturing, to distribution, to use to recovery.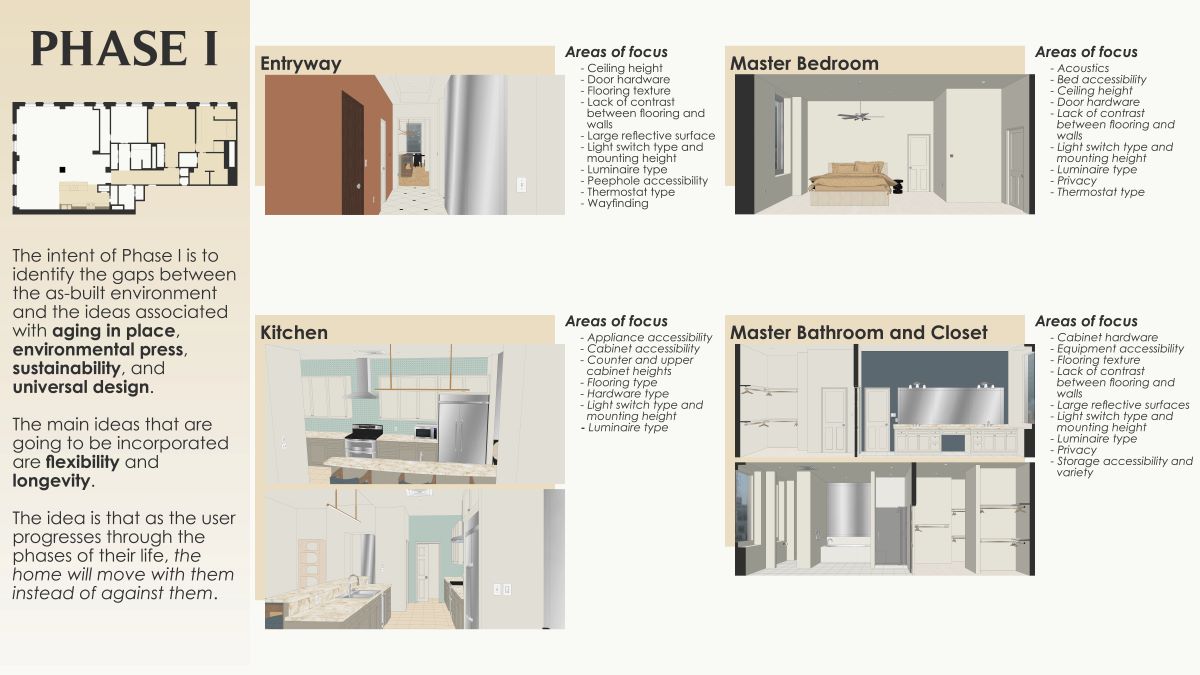 Slide 3: Phase 1 — Floor plan of existing conditions with areas of focus highlighted for the entryway, master bedroom, kitchen, and master bathroom.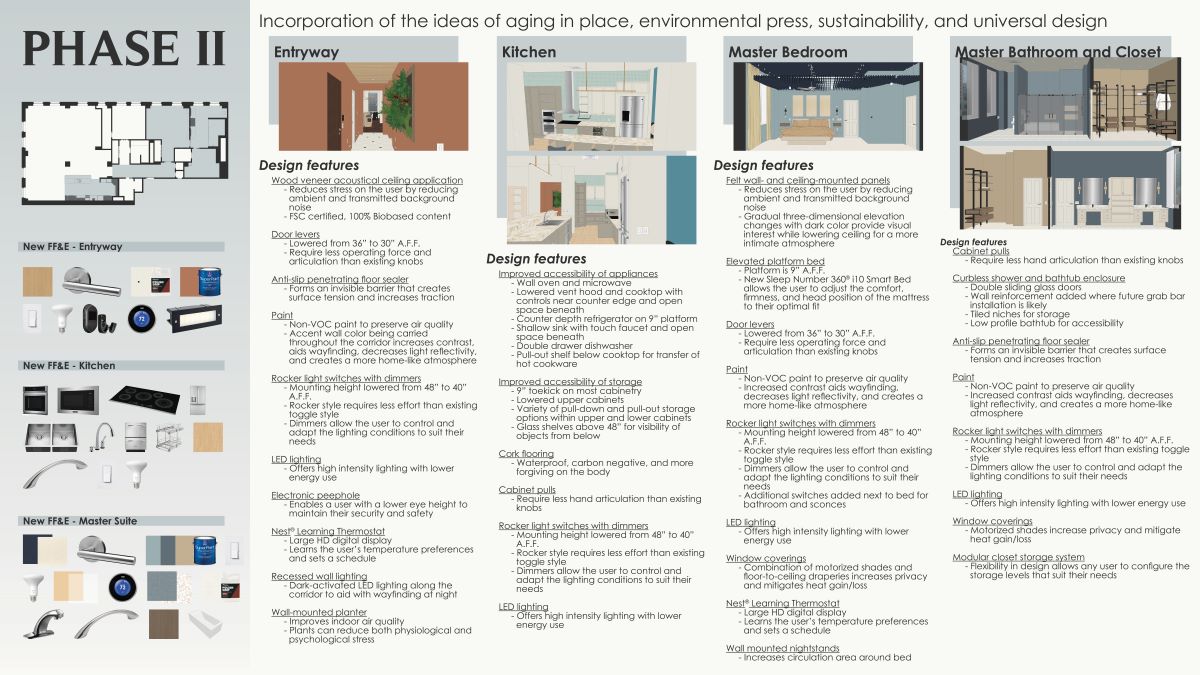 Slide 4: Phase II
Image 1: Floor plan of phase two with areas of focus highlighted from various perspectives, such as the entryway, kitchen, and master bedroom.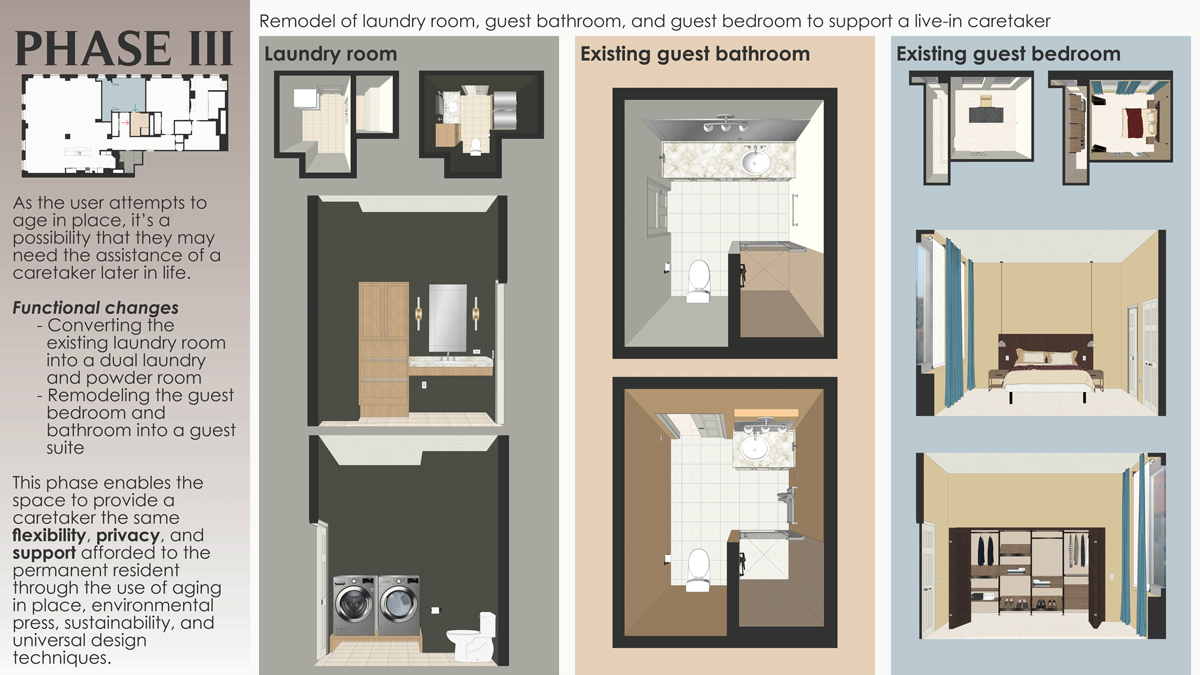 Slide 5: Phase III — Floor plan of phase three with areas of focus highlighted with various aerial views of the rooms, such as the existing laundry room conditions with a stacked washer/dryer, white walls, and light tile flooring.