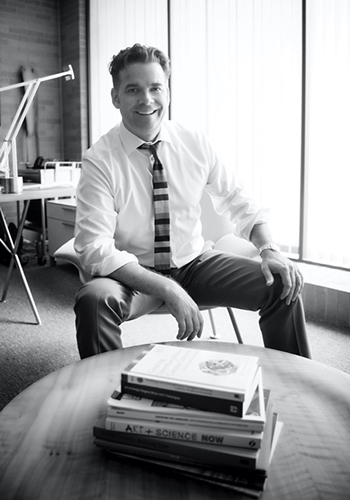 Nov. 23, 2020: Subsequent to action by the membership and the board of directors of the National Association of Schools of Art and Design, NASAD, CVAD Dean and Professor of Studio Art: Photography Greg Watts, has been elected as vice president of the association. Dean Watts will serve in this office and as a member of the NASAD Executive Committee and Board of Directors through the October 2023 annual meeting.
As vice president, Dean Watts will be the president-elect and will succeed to the office of president upon completion of one term as the vice president without further election. As vice president, he will be responsible for the program of the NASAD Annual Meeting. Previously, Dean Watts has served as the chair of NASAD's Commission on Accreditation.
NASAD, which is based in Reston, Va., is an organization of schools, conservatories, colleges, and universities with approximately 363 accredited institutional members. It establishes national standards for undergraduate and graduate degrees and other credentials for art and design and art/design-related disciplines and provides assistance to institutions and individuals engaged in artistic, scholarly, educational, and other art/design-related endeavors.
During his appointment as CVAD Dean, Watts has significantly increased, in number and diversity, faculty and staff while leading the college through major structural transitions, including $80M of construction and renovation projects that have resulted in more than 264,000 sq. ft. of world-class facilities.
UNT has been an accredited institutional member of the National Association of Schools of Art and Design since 2007.